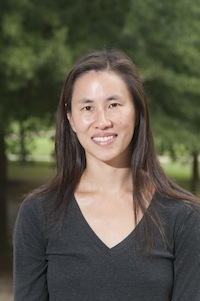 Associate Professor, Associate Director of the International Program for Creative Collaboration and Research (IPCCR), Dance Performance and Scholarship

(301) 405-3195
afang1@umd.edu
1933 The Clarice Smith Performing Arts Center
Get Directions
Research Expertise
Modern Dance Technique

Adriane Fang is a dancer, teacher and choreographer with a keen interest in multi-disciplinary collaboration. She was a member of the internationally renowned dance company, Doug Varone and Dancers, from 1996-2006 and has worked with several other choreographers including Colleen Thomas, Wally Cardona, Elizabeth Shea, Bill Young, Christopher K. Morgan and Nancy Bannon.
Current projects include creative projects choreographed by Doug Varone, Bebe Miller, Keith Johnson and Kendra Portier and with collaborators Colleen Thomas, Stephanie Liapis, and Stevie Oakes as part of her Madden Professorship research.
She has been a guest teacher at Taller Nacional de Danza – San José, Costa Rica, Indiana University and the Damansara Performing Arts Center in Kuala Lumpur, Malaysia and has taught and staged the works of Doug Varone for various universities and companies, including North Carolina School of the Arts, CityDance Ensemble, BalletMet Columbus, Juilliard School of the Arts, Ohio State University and the University of Minnesota. She was on faculty at George Mason University from 2006-2009 and at the Doug Varone and Dancers Summer Workshops from 2000-07, 2015-16 and 2020-21.
She has choreographed dances for groups such as Compañia Ceibadanza in Ecuador, ClancyWorks Dance Company, Shendandoah University, James Madison University, and was awarded a 2014 Local Dance Commissioning Project Award from The John F. Kennedy Center for the Performing Arts to present her full-length work, Grains.
Currently on faculty at the University of Maryland, Adriane is the recipient of a 2007 New York Dance and Performance Award ("Bessie") for her performance with Doug Varone and Dancers.
Check out her profile on the life as a modern dancer blog
Education/Training:
M.F.A. Dance, George Mason University, 2009; B.A. Dance/Psychology, University of Wisconsin – Stevens Point, 1996.NYC: Wally Cardona, Gwen Welliver, Ronald K. Brown, Christian Canciani, Kevin Wynn, Jackie Villamil, Jan Miller, Cherylyn Lavagnino
Research Expertise:
Modern Dance Technique, Embodied Anatomy
Professional Affiliations:
Doug Varone and Dancers (1996-2006)
Representative Productions:
Performance: Doug Varone and Dancers, Wally Cardona, Elizabeth Shea Dance, Nancy Bannon, Colleen Thomas and Dancers, Karen Reedy Dance, American Dance Festival Faculty Concert, Alvin Mayes, ClancyWorks, Dahlia Nayar Butler, Bill Young/Colleen Thomas and Dancers, Peter DiMuro Projects, Clare Byrne Dance, Murray Spaulding Dance, Copperworks Dance Company, Wally Cardona Quartet, The Yard, Christian Canciani & Mia Lamm;
Faculty: George Mason University, American College Dance Festival, 92nd Street Y – Harkness Dance Center, ClancyWorks Dance Educators Training Institute, Doug Varone and Dancers Summer Intensives (2000-07, 2015-16 and 2020-21), CityDance Ensemble, Chautauqua Institute;
Guest Teaching: St. Petersburg Dance Festival, James Madison University, Shenandoah College, Hollins College, University of Maryland, University of Wisconsin-Stevens Point, NYU Tisch School of the Arts, Glenwood Springs Dance Festival, Colorado Dance Festival, New Orleans Center for Creative Arts, Barnard College, Mason/Rhynes Production Projects; Doug Varone and Dancers Repetiteur: SUNY-Purchase, University of Minnesota, Ririe-Woodbury Dance Company, North Carolina School of the Arts, BalletMet Columbus, Ohio State University, Juilliard School of the Arts;
Independent Teaching: Movement Research, Dance New Amsterdam, 100 Grand, Joy of Motion;
Choreography: Grains – Local Dance Commissioning Project at the John F. Kennedy Center for the Performing Arts Millennium Stage (2014); The Lost World – UMD Production, Jared Mezzocchi, Director (2015); World Bank Flash Mob – Created Flash-mob with a projection technology collaboration (2013); Alpha Damsel – Shared Concert with Colleen Thomas presented by Danspace Project at St. Mark's Church in the Bowery (2005); Eight choreographed works: University of Maryland, George Mason University, Shenandoah University, James Madison University
Honors and Awards:
New York Dance and Performance (Bessie) Award, Honored University Faculty Mentor for UMD Phillip Merrill Presidential Scholar, UWSP Chancellor's Leadership Award, Albertson's Medallion Award (1 of 16 winners), American Dance Festival Scholarship, New Arts Festival Dance Scholarship, Psychology Department Senior Leadership Award, Phi Kappa Phi Honor Society Member, Psi Chi (Psychology Honor Society)