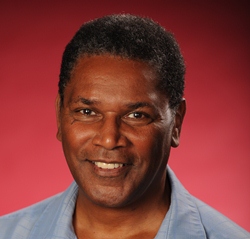 Principal lecturer, Dance Performance and Scholarship
Head of Dance Performance and Scholarship, School of Theatre, Dance, and Performance Studies

(301) 405-3194
amayes@umd.edu
1931 The Clarice Smith Performing Arts Center
Get Directions
Research Expertise
Modern Dance Technique

Alvin Mayes' research involves making dance for diverse communities and creating music for theatre and dance. In summers 2012 and 2013, he was invited to work with Compañía Ceibadanza in Manta, Ecuador. The residency included community engagement, master classes for the youth dancers and using dance to promote the industry of Manta. His dance, LOS OJOS SOBRE MANABÍ, was accepted in the adjudicated XI Festival Internacional "Fragmentos de Junio" 2013 in Guayaquil, Ecuador. His return in summer 2013 was supported by a grant from the Greenbaum Charitable Foundation to specifically create a new work ESCENAS DEL OESTE for the youth of Manta.
Education/Training:
Alvin Mayes holds a BA in Mathematics from the University of Michigan and teaching certification. He studied modern dance technique with Elizabeth Bergmann, Gloria Newman and Jan Van Dyke, Ballet with Karen Shanley and Eric Hampton, Partnering with Antony Tutor, Choreography and Improvisation with Phyllis Lamhut, voice with Ysaye Maria Barnwell and music composition with Jerry Bilik.
Areas of Specialization/Interest:
Mayes specializes in Partnering, Choreography, and Performance Coaching for dance.
Professional Affiliations:
Mayes works regularly in the region with the Maryland Youth Ballet, The Bender Jewish Community Center, Montgomery College in Rockville, Northwestern High School Center for Visual and Performing Arts, and the Maryland Council of Dance.
Representative Productions:
Mayes has created more than 150 works on students at The University of Maryland. Some of these works were performed at V Festival de la Cultura de Origen Caribeño in Santiago de Cuba, at the Port Sisters City Festival in Nagoya, Japan, avant-garde steirischer herbst festival in Graz, Austria, many festivals in re mid-Atlantic region of American College Dance Association and the Choreographers' Showcase.
Mayes has worked collaboratively with Theatre Professor Scot Reese for a number of TDPS productions: The 2019 Season's FLYIN' WEST and other seasons THE WILD PARTY, THE ME NOBODY KNOWS, IN THE RED AND BROWN WATER, THE COLORED MUSEUM and SOPHISTICATED LADIES; and off campus for FREE TO SING for the opening of the Music Center at Strathmore, Rockville, Maryland.
For the 2018 season, he choreographed LITTLE SHOP OF HORRORS directed by Ron Hines. In 2016 he was the movement coach for GOOD KIDS by playwright Naomi Iizuka, directed by Seret Scot.
At the Bender Jewish Community Center in Rockville, Mayes works with a team of students preparing them for the Maccabi Games, which have been in Detroit, MI, Costa Mesa, CA, Miami, FL, Memphis, TN, New York, NY, Houston, TX, and Rockville, MD.
He has made new works regularly for Montgomery College in Rockville each spring since 1985, collaborating with composer Bernard Meiterman in 2013 for SHADOW OF THE SHADES and 2016 for HARBOR ME, with Jeffrey Dorfman for FROM THE STOOP 2014 and SILENCIO DE LA NOCHE 2017; in 2018 and 2019 Mayes composed his own scores for choreography.
In January 2016, Mayes created AS QUIET AS … with the dancers of CCBC. He has also created DREAM CATCHERS 2013 and EARLY FALL in 2011, which was created as a 10-year remembrance of the 9/11 tragedy.
Honors and Awards:
2020, STONES IN THE GARDEN was one of two works selected to represent the University of Maryland for the American College Dance Association.
2019, Mayes received a literacy grant from Wolf Trap to work with Northwestern High School exploring the poetry of Toni Morrison.
2019, 2018, 2017 dancers from the Bender JCC of Greater Washington won Gold Medals with Mayes' choreography in the category of modern dance at the Maccabi Games Detroit, MI, Costa Mesa, CA and Miami, FL respectively.
2017, JUST OUT OF REACH was one of two works selected to represent the University of Maryland for the American College Dance Association.
2015, Promoted to the rank of Principal Lecturer in the School of Theatre, Dance, and Performance Studies at the University of Maryland.
2015, Greenbaum Charitable Foundation Grant to create a work with children where dance is less accessible.
2014, "Best of 2014" honors by DC Metro Theater Arts for The Me Nobody Knows co-directed by Alvin Mayes and Scot Reese
2013, Greenbaum Charitable Foundation Grant to work with children where dance is less accessible.
2012, "Best of 2012" honors by DC Metro Theater Arts for IN THE RED AND BROWN WATER co-directed by Alvin Mayes and Scot Reese
2012, Outstanding Service Award by Maryland Council of Dance.
2011, Pola Nirenska Award for Life Achievement in Dance presented by Washington performing Arts society.
2009, Metro DC Dance Award for TAQHQUAMENON FALLS staged on the Maryland Youth Ballet.
2008, Edgeworks Dance Ensemble Men of Honor Recipient for leadership and involvement in the Greater Washington Metro community.
2007, Metro DC Dance Award for Outstanding Achievement in Dance Education.
2004, American College Dance Festival, East Central Region, Wayne State University, Detroit, Michigan - Adjudicator.
2003, Distinguished Scholar-Teacher Award for the Center of Teaching Excellence at the University of Maryland.
1996, Arts Achievement Award presented by Wayne State University, Detroit, Michigan.
1994, The National Dance Association Plaudit Award
1986, The Michigan Dance Association Plaudit Award for contributions to Dance and Dance Education