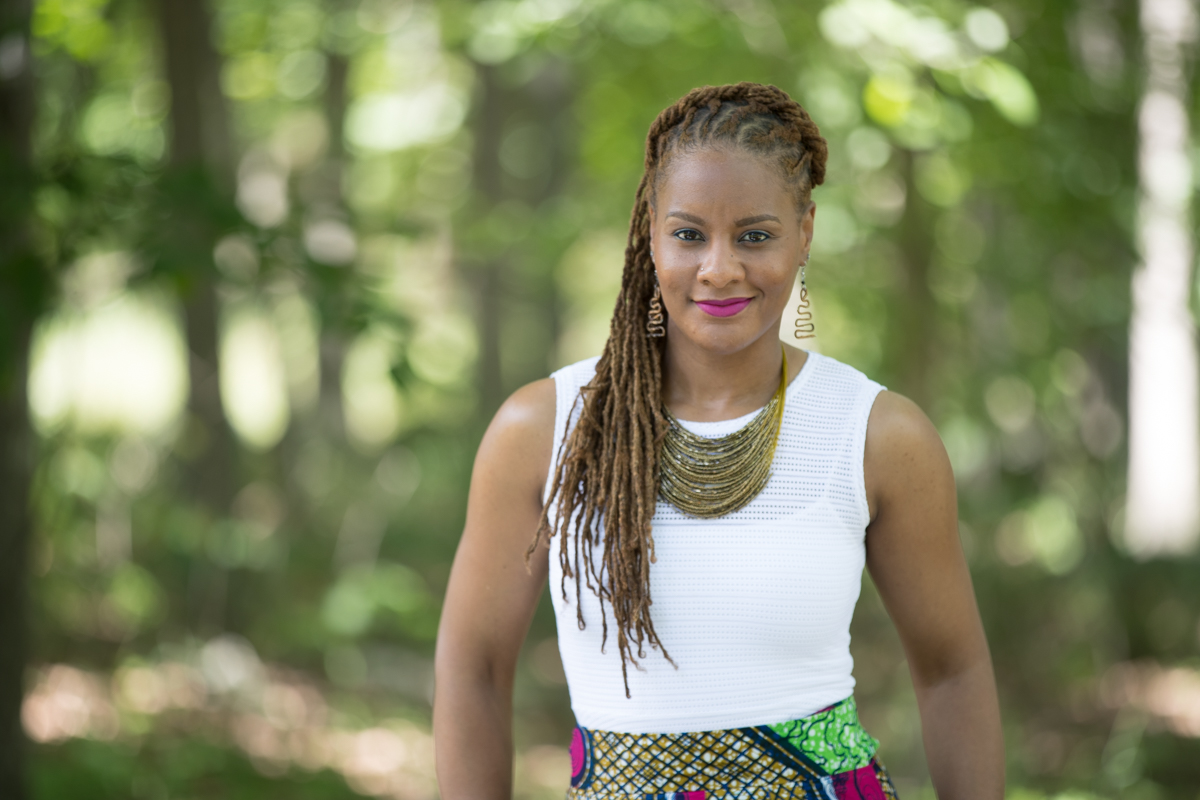 Gianina K. Lockley is a second year doctoral student in Theatre and Performance Studies and is currently pursuing a professional certificate in Museum Studies and Material Culture. Her work is situated at the intersection of African diaspora theory, dance, gender, performance and museum studies, ethnography, storytelling and black feminism.
She is a 2018 recipient of the International Program for Creative Collaboration & Research Grant (Ghana); 2017-2019 UMD Deans Fellow; and former Research Associate at the David C. Driskell Center for the Study of African Americans and the African Diaspora. She received her MFA in Interdisciplinary Art and Media from Columbia College Chicago, BS in Chemistry from Howard University and certificates in Diversity and Inclusion, Project Leadership and Nonprofit Executive Leadership from Cornell University and the Lilly Family School of Philanthropy at Indiana University-Purdue University. She has also studied abroad at the United States International University in Nairobi, Kenya and has conducted autoethnographic research in Kenya, Tanzania, Ghana, Nigeria, India, Japan, and South Africa -- including visits to the slave castles of Cape Coast, Ghana.
Gianina has performed her one woman play, Just how black? (2009), an ethnoautobiographical exploration into the performativity of blackness throughout the African Diaspora, at The Kennedy Center's 15th Annual Page-to-Stage New Play Festival; Stage TWO Theater; Book and Paper Gallery at Columbia College Chicago; and the Raw Space Gallery in Chicago. Her work has been featured in many publications including the United States International University Gazette Newspaper in Nairobi, Kenya--I am point five (0.5): half-African, half-American (2004), and The Columbia Chronicle (Rodriques, 2003).
She has won numerous awards for her work in promoting diversity in higher education including the Columbia College Chicago's Graduate Opportunity Award (2008), Columbia College Chicago Diversity Award (2008), Getz Graduate Award (2007) and the Lya Dym Rosenblum travel grant (2007). Additionally, she has worked as a museum educator and docent for the Smithsonian's National Portrait Gallery and National Museum of African Art, and has held a work study position at The Dance Place in Northeast Washington, DC where she provided college planning workshops to their teen program. Gianina has a fervent passion for West African dance and was a performing community member of Coyaba West African Dance Company.
When she's not doing all of the aforementioned you can catch her at a dance class in the DC area, at home binge watching episodes of The Office, or asleep.