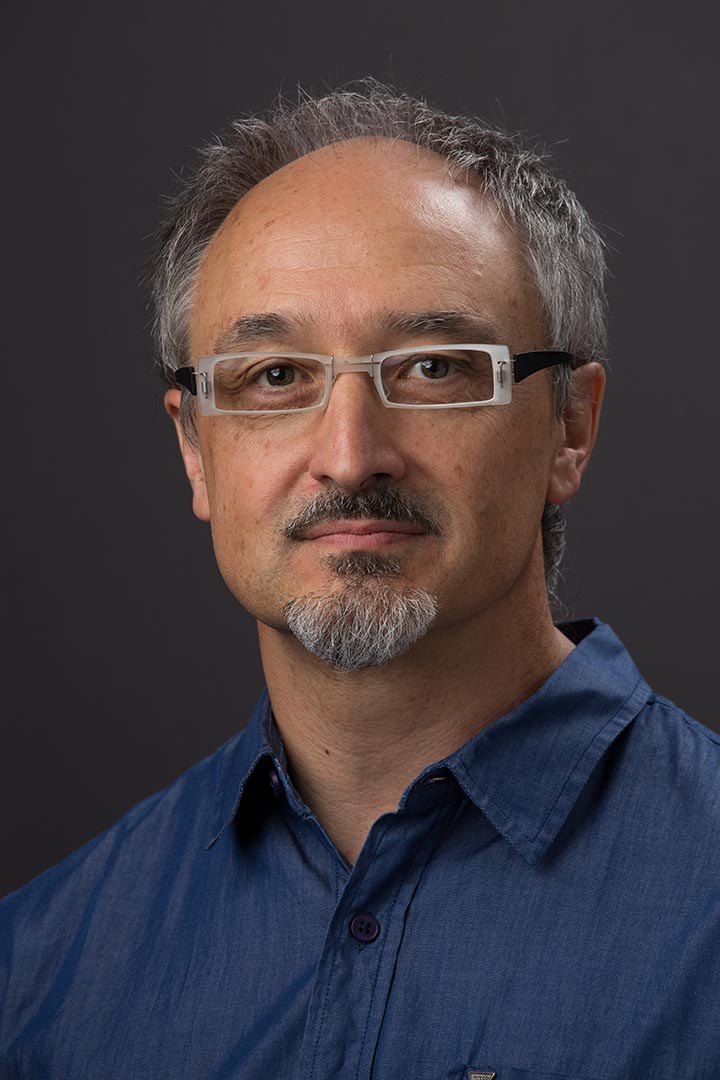 Research Expertise
Choreography
Improvisation
Modern Dance Technique

Patrik Widrig has been a professor of Dance at UMD since 2009, and co-artistic director of PEARSONWIDRIG DANCETHEATER (PWDT) since 1987. He is the recipient of a 2013 Dance Metro DC award for Outstanding Overall Production at a Large Venue. PWDT has gained an international following for work that transforms the familiar into the mysterious, the subversive, and the intimate. Creating and presenting "American dance theater at its funniest and most compelling" [Neue Zürcher Zeitung, Switzerland], the company has toured extensively throughout the United States, Europe, Latin America, Asia and New Zealand. Their work has been produced by major dance venues including Lincoln Center, Kennedy Center, City Center Fall for Dance Festival, Joyce Theater, the Bates Dance Festival, Flynn Center (Burlington, VT), Contemporary Arts Center (New Orleans, LA), Hopkins Center (Hanover, NH), Kaatsbaan Arts Center (Tivoli, NY), Omaha Summer Festival, The Painted Bride (Philadelphia, PA), Portland Museum of Art (Portland, ME), Redfern Arts Center (Keene, NH), Rutgers University, Wagontrain Project (Lincoln, NE), and internationally at London's Dance Umbrella; José Limón Festival Internacional de Danza in Mexico; Festival Internacional de Danza in Lima, Peru; New Territories in Glasgow, Scotland; Chang Mu Arts Center in Seoul, South Korea; Beijing Normal University in Beijing, China; Darpana Academy in Ahmedabad, India; and two tours throughout Mr. Widrig's native Switzerland. Financial support includes funding from the National Endowment for the Arts, the National Performance Network, MD State Arts Council, NY State Council on the Arts, the Fund for US Artists at International Festivals, the Mid Atlantic Arts Foundation, the Rockefeller, Altria, Harkness, Jerome, Joyce Mertz-Gilmore, Leon Lowenstein, O'Donnell-Green, Puffin, Swiss Center, Sequoia, and Lifton Family Foundations, the American Music Center Live Music for Dance Program, the Asian Cultural Council, Arts International, USIA/USIS and the University of Maryland.

Recent engagements include the commissions of site-specific works at two UNESCO World Heritage Sites: at the Castillo San Cristóbal in San Juan, Puerto Rico; and, in a collaboration with Folkwang Tanzstudio, at the Zeche Zollverein, a former coal processing plant turned cultural center in Essen, Germany; an invitation for a teaching residency at the Jackie Chan Film and Television Academy of the Wuhan Institute of Design and Sciences in Wuhan, China; a 3-city tour in Mexico as part of the International José Limón Dance Festival; and presenting new work at Dance Place in Washington, DC.
Guest Teaching:
Prior to arriving at UMD TDPS, Widrig was on faculty at the Juilliard School, New York University, Montclair State University, Hunter College and Queens College, and he taught as a guest artist at Connecticut College, the University of Wisconsin Madison, the University of Montana Missoula, Middlebury College, Movement Research, Oberlin College, Skidmore College, Tulane University, the University of Utah, Virginia Commonwealth University, Wesleyan University and Vassar College.
Education/Training:
B.A. in Education, Pädagogische Hochschule Rorschach, Switzerland (1981); Nikolais/Louis Dance Lab, New York City (1984-87); Alexander Technique/Somatic Training with Regina Wray and Ann Rodiger (1986-96)
Professional Affiliations:
Co-Artistic Director, PEARSONWIDRIG DANCETHEATER (1987-present)
Representative Productions:
Original dance theater works: Gold I+II (2017+2018), …and still doing… (2015), rapture I+II (2014+2015), A Season of No Regrets (2013), Take Me With You (2012), Ja!Ja!Ja! (2012), The Razor's Edge (2012), Drama (2011), Oashisu (2010), Kré Kré Kré (2009), Sayonara, Dear (2008), Unmoored (2006), Thaw (2005), The Return of Lot's Wife (2003), HereAfter (2000), If Wishes Were Horses, Beggars Would Ride (2000), Aussicht ins Jenseits (1999), Terra Firma (1998), Muezzin (1996), Ordinary Festivals (1995), Do You Remember? (1994), Common Ground (1993), A History of Silence (1992), A Means of Support (1990), A Matter of Course (1990), Heimweh (1989), Partners Who Touch, Partners Who Don't Touch (1989)
Original site-specific works: A Curious Invasion/San Juan (2019), A Curious Invasion/Zollverein (2017), A Curious Invasion/Alexandrinsky (2014), A Curious Invasion/Governors Island (2014), A Curious Invasion/Main Street (2013), A Curious Invasion/Middlebury (2012), A Curious Invasion/Conn Coll (2011), A Curious Invasion/Bratislava (2009), Paradise Pond (2007), A Curious Invasion/Dartmouth (2003), A Curious Invasion/Wave Hill (2001), A Curious Invasion/Gilsland Farm (1997), Love Notes to Central Park (1996), Common Ground I + II + III (1993+1994), Ley Lines (1989), Graven Images (1987)
Video Projects: 20 short video works that stand alone as well as often becoming part of PWDT live performance projects. Photography Projects: street art photos of rural India and New Orleans.
Honors and Awards:
Dance Metro DC Award for Outstanding Overall Production in a Large Venue, Clarice Smith Performing Arts Center (2013);
Rising Visionary in the Arts Award, SUNY Stony Brook (1996)