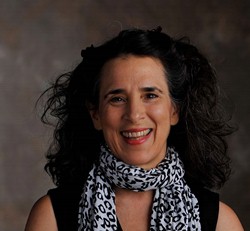 Research Expertise
Choreography
Improvisation

Sara Pearson has been professor of Dance at UMD since 2009, and co-artistic director of PEARSONWIDRIG DANCETHEATER since 1987. PWDT has gained an international following for work that transforms the familiar into the mysterious, the subversive, and the intimate. Creating and presenting "appealingly subversive, engaging, wry, and deeply affecting work" (The Washington Post), the company has toured extensively throughout the United States, Europe, Latin America, Asia, and New Zealand. Their work has been produced by major dance venues including Lincoln Center, the Kennedy Center, the City Center Fall for Dance Festival, the Joyce Theater, Central Park SummerStage, Lincoln Center Out-of-Doors, the Bates Dance Festival, and internationally at London's Dance Umbrella; the Festival Internacional de Danza in Lima, Peru; the Museo Nacional de Bellas Artes in Santiago, Chile; the Jose Limon International Festival in Mexico, New Territories in Glasgow, Scotland; the Chang Mu Arts Center in Seoul, South Korea; Beijing Normal University in Beijing, China; the Darpana Academy in Ahmedabad, India; and two tours throughout Switzerland. Financial support includes funding from the National Endowment for the Arts, the National Performance Network, the Maryland State Arts Council, the New York State Council on the Arts, the New York Foundation for the Arts, the Fund for US Artists at International Festivals, the Mid Atlantic Arts Foundation, the Rockefeller, Altria, Harkness, Jerome, Joyce Mertz-Gilmore, Leon Lowenstein, O'Donnell-Green, Puffin, Swiss Center, the American Music Center Live Music for Dance Program, the Asian Cultural Council, Arts International, and the USIA/USIS. Professor Pearson is a recipient of the American Choreographer Award and the first Dance Connect Commissioning Project from Dance Metro DC. Recent performance and residency engagements include PWDT tours to Russia Cuba, Mexico, India, and Israel, including site-specific dances created throughout UNESCO World Heritage sites in Essen, Germany at Zeche Zollverein and in Puerto Rico at Castillo San Cristobal.
Current PWDT company members include TDPS Dance alumns Emily Ames (BA '18), Atlas Hill (BA '20), Jonathan Hsu (BA '15), Angad Kalsi (BA '20), Tzveta Kassabova (MFA '09), Syndey Lemelin (BA '20), Stephanie Miracle (MFA '14), Candace Scarborough (BA '13), Betty Skeen (MFA '10), and Connor Voss (BA '13).

Education/Training:
BA, Music/Dance, University of Minnesota, 1971; Nikolais Louis Dance Lab (1973-74); Alexander Technique/Somatic Training, Regina Wray, Ann Rodiger, Judith Blackstone (1976-96)
Professional Affiliations:
Co-Artistic Director, PEARSONWIDRIG DANCETHEATER (1987-present); Martha Clarke (1987); Sara and Jerry Pearson Dance Company (1980-86); Murray Louis Dance Company (1975-80); Nikolais Dance Theatre (guest artist 1974-76); Nancy Hauser Dance Company (1967-73)
Representative Productions:
15 full-evening dance theater works, 30+ solo and duet works. New York City: Lincoln Center, Joyce Theater, City Center Fall for Dance Festival, Central Park SummerStage, Symphony Space, Japan Society, DTW, The Kitchen, Danspace Project, P.S. 122, The 92nd Street Y Harkness Dance Project, Dancing in the Streets, Tenri Cultural Institute, and the NY Improvisation Festival. USA: Bard College, Bates Dance Festival, Clarice Smith Center, CAC (New Orleans), CEC (Philadelphia, PA), Flynn Center (Burlington, VT), Hopkins Center (Hanover, NH), Jacob's Pillow, Kaatsbaan Arts Center (Tivoli, NY), Kennedy Center, Omaha Summer Festival, The Painted Bride (Philadelphia, PA), Portland Museum of Art (Portland, ME), Redfern Arts Center (Keene, NH), Rutgers University, Wagontrain Project (Lincoln, NE). International: Algeria, Austria, Brazil, Chile, Egypt, England, Finland, India, Ireland, Italy, Japan, Greece, Mexico, Morocco, New Zealand, Peru, Scotland, Slovakia, South Korea, Switzerland, Tunisia, Wales. Choreographic Commissions: TanzPlan Ost (Switzerland), ADF, Bates Dance Festival, Daejeon City Dance Company (South Korea), Pacific Northwest Ballet (Seattle), OnSite Performance Network, Dancing in the Streets, Lincoln Center Out-of-Doors, Redfern Arts Center, Wave Hill. Guest Teaching: The Juilliard School, Laban Centre London, NYU, Connecticut College, Hunter College, Montclair State University, UMT Missoula, Middlebury College, Movement Research, Oberlin, Skidmore, Tulane, UUtah, VCU, Wesleyan, UW Madison, Vassar.
Honors and Awards:
American Choreographer Award (1990), NEA grants (1983-2009), New York Foundation for the Arts Fellowship (1989), New York State Council on the Arts grants (1986-2009), Rising Visionary in the Arts Award, SUNY Stony Brook (1996), First Prize, International Choreographic Competition, Nyon, Switzerland (1982) Maryland Arts Council (2017, 2020).