Revolutions in Sound Symposium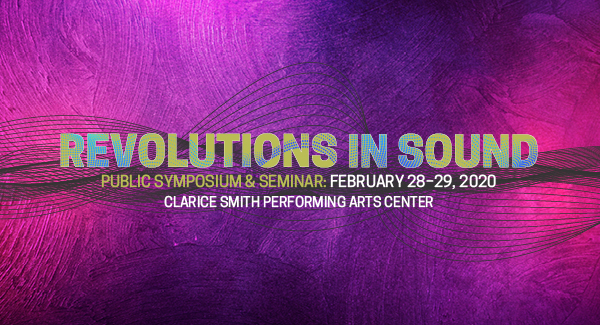 Revolutions in Sound Symposium
School of Theatre, Dance, and Performance Studies
Friday, February 28, 2020 9:00 am-5:00 pm
The Clarice Smith Performing Arts Center, Cafritz Foundation Theatre
The Revolutions in Sound symposium is a public humanities event and publication seminar bringing together scholars from across the Americas examining how black and brown, LGBTQ+, indigenous, and crip communities instrumentalize sound in service of resistance, survivance, and radical world making.
Keynote speakers:
Christine Bacareza Balance (Associate Professor; Media & Performing Arts; Asian American Studies Program; Cornell University)
Alexandra Vazquez (Associate Professor; Tisch School of the Arts; New York University)
Panelists:
Eddy Alvarez Jr. (Assistant Professor; Portland State University)
Masi Asare (Assistant Professor; Northwestern University)
Danielle Bainbridge (Assistant Professor; Northwestern University)
Iris Blake (PhD Candidate; UC Riverside)
Karen Jaime (Assistant Professor; Cornell University)
Megan Johnson (PhD Candidate; York University)
Kristin Moriah (Assistant Professor; Queen's University)
Julie Beth Napolin (Assistant Professor; The New School)
Aidan Pang (PhD Candidate; University of Oregon)
Jade Power Sotomayor (Assistant Professor; UC San Diego)
Dylan Robinson (Canada Research Chair in Indigenous Arts; Queen's University Canada)
Shayna Silverstein (Assistant Professor; Northwestern University)
Katelyn Hale Wood (Assistant Professor; University of Virginia)
Register for the symposium here.
Revolutions in Sound is generously supported by The American Society for Theatre Research, The Dean of Arts & Sciences at the University of Richmond, The UMD Office of Diversity & Inclusion, The Office of the Provost, The Office of Undergraduate Studies, The College of Arts & Humanities, The Graduate School Office of Diversity & Inclusion, The School of Music, The Department of American Studies, and the School of Theatre, Dance & Performance Studies.