Winter 2020 Virtual Commencement Ceremonies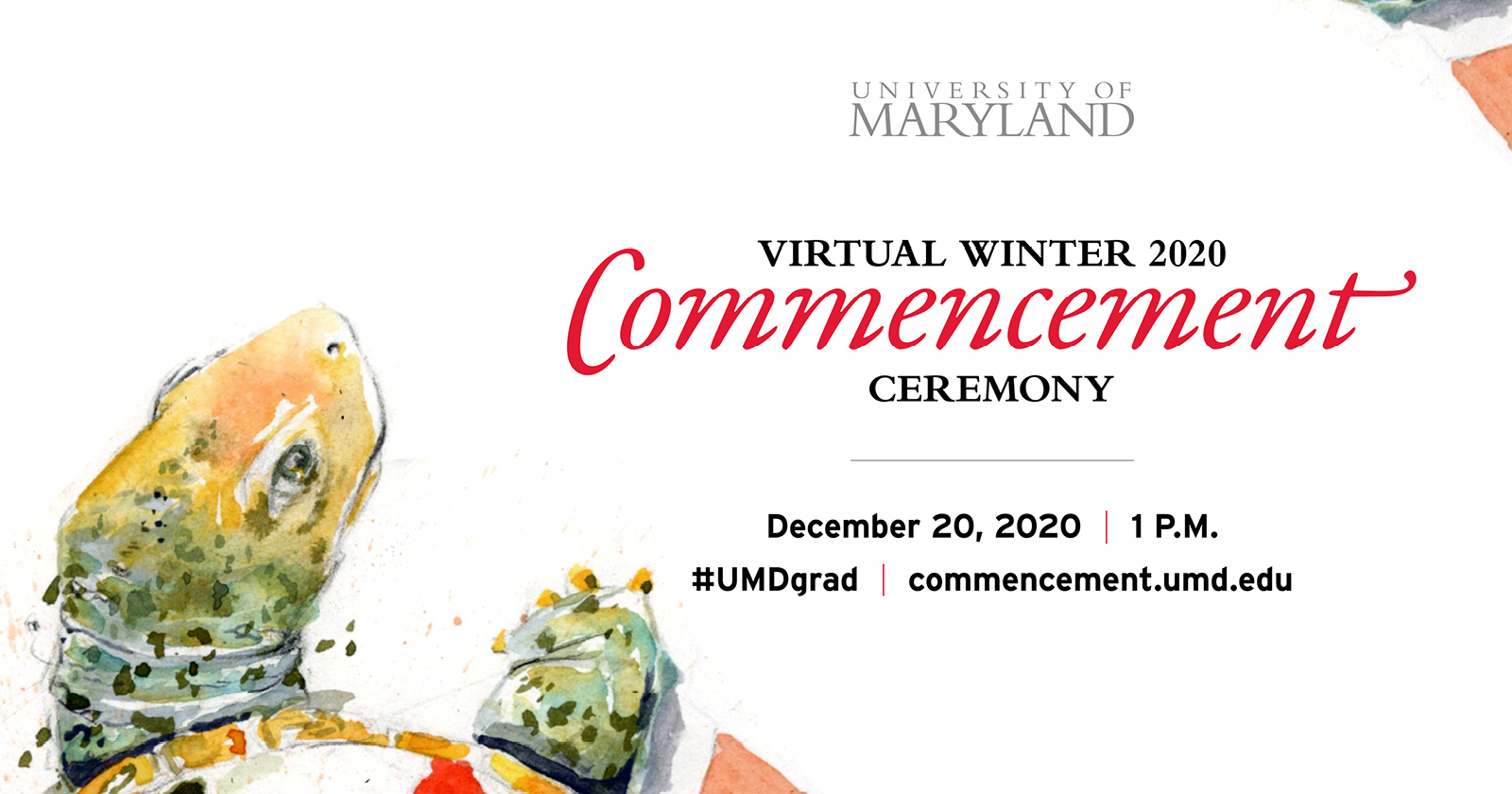 Winter 2020 Virtual Commencement Ceremonies
Art | Classics | College of Arts and Humanities | David C. Driskell Center for the Visual Arts and Culture of African Americans and the African Diaspora | English | Linguistics | School of Music | School of Theatre, Dance, and Performance Studies | The Harriet Tubman Department of Women, Gender, and Sexuality Studies
Sunday, December 20, 2020 1:00 pm-3:00 pm
UMD Commencement Ceremony
The university will host a campus-wide virtual commencement ceremony on Sunday, December 20, 2020 at 1 p.m. Streamed live across multiple platforms, the ceremony will include an official commencement address from three-time Olympian and Olympic Gold Medalist Dominique Dawes '02. Degrees will be officially conferred during this ceremony.
The ceremony will be livestreamed starting at 1 p.m. on commencement.umd.edu as well as on the UMD Facebook and YouTube channels.
ARHU Commencement Ceremony
Immediately following the main campus-wide virtual commencement ceremony, the College of Arts and Humanities will host a separate ceremony for ARHU graduates.You can access the ceremony on commencement.umd.edu website or on the college's YouTube channel.
Our ceremony will feature remarks from Dean Bonnie Thornton Dill, messages from our graduating students and the names of all graduates.
Closed captioning will be provided for both the main and college ceremonies.
Share your Favorite Memories
Throughout the remainder of the semester, the university is calling on graduates to share photos, videos and messages of memories, experiences and hope with fellow Terps using the hashtag #UMDgrad and #IAmARHU. You can find ARHU Terps' photos and stories on Twitter and Instagram.
For more information, visit commencement.umd.edu.