ARHU 2021 Service Award Winners Announced
September 22, 2021 School of Theatre, Dance, and Performance Studies | Classics | History | School of Languages, Literatures, and Cultures | College of Arts and Humanities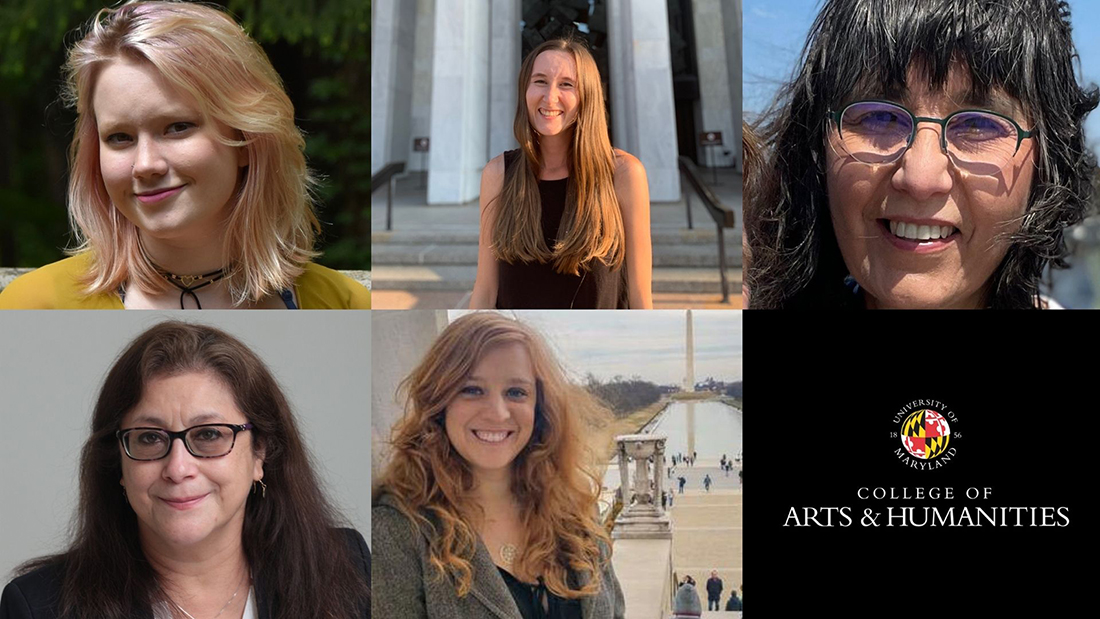 Six exceptional members of the ARHU community received an annual service award.
By ARHU Staff 
Each year, the College of Arts and Humanities honors faculty, staff members and students who have demonstrated excellence through their service to their departments and the college.
2021 ARHU Service Award winners: 
Genevieve Menthen '23, student in the Department of Classics | Undergraduate Student Service Award
Junior classics and criminal justice double major Genevieve Menthen had planned to perform her role as the ARHU orientation advisor in the Office of Student Affairs & Career Engagement in person. But after the pandemic struck, she stuck to her commitment and approached the task of remotely connecting with new ARHU students with enthusiasm and creativity. In her communication with students, Menthen was always an advocate for ARHU—highlighting how her education has helped to prepare her for leading an engaged, social justice seeking life and career; emphasizing the transferrable skills she is learning in her majors; and showing students how she plans to market those skills to prospective employers. In a year of so much change and upheaval, Menthen "excelled in what has essentially become an entirely different job than the one she applied to," said Joseph Filteau, coordinator in the College of Arts and Humanities Office of Student Affairs & Career Engagement. 
Sara Ludewig, pursuing a Master of Arts in history and a Master of Library and Information Science | Graduate Student Service Award
As the undergraduate advisor in the Department of History, Sara Ludewig worked on a number of initiatives to improve advising procedures: she created new marketing materials, revised the orientation program, designed and implemented an exit survey for graduates and worked to support a range of community-building activities. During the COVID-19 pandemic, Ludewig was critical to making sure that students continued to stay engaged and make progress toward their degrees. She developed new procedures to track advising appointments and students' inquiries. She also devoted countless hours to helping students navigate the uncertain new environment, listening to their concerns, trying to help find solutions and creating resource lists. "Always welcoming with students but also calm and composed, [she was] able to reassure the most anxious undergraduates," said Associate Professor of History and Director of Undergraduate Studies Antoine Borrut, who added that he had "never seen a graduate student playing such a major role in undergraduate advising." 
Vivianne Salgado, former fiction instructor and associate director of the Jiménez-Porter Writers' House | Faculty Service Award, Service to Department
For more than 16 years, Vivianne Salgado shaped the unique curriculum of the Jiménez-Porter Writers' House. Her course ARHU298L, "Critical Approaches to Traditional and Non-Traditional Literary Forms across Different Cultures," helped freshmen critically engage with topical issues such as gender discrimination, racism, intersectionality and identity through the lens of non-canonical forms such as zines, comics and flash fiction. She helped develop and sustain the winter term Education Abroad program to Chile, her native country, and was the Writers' House's primary designer for over a decade. In the transition to an online setting necessitated by the pandemic, Salgado set out to learn how to make the program a more explicitly anti-racist and inclusive community, attending events, seminars and lectures on topics from neurodiversity to racism. Most importantly, Salgado developed deep relationships with students, said Johnna Schmidt, the director of Writers' House: she "has the kind of relaxed and friendly relationship with students that creates warmth in our learning environment." 
Ana Patricia Rodriguez, associate professor in the School of Languages, Literatures, and Cultures | Faculty Service Award, Service to College
Nominated by nine of her students for "her outstanding contribution to the field of Central American Studies at UMD and transnationally, her commitment to mentoring graduate students [and] her dedication to service," Ana Patricia Rodriguez is a core faculty member in the School of Languages, Literatures, and Cultures and an affiliate faculty member of the Harriet Tubman Department of Women, Gender, and Sexuality Studies and the Latin American and Caribbean Studies Center. As a mentor, Rodriguez is invested in her students' professional development, guiding and presenting them with publication and networking opportunities. She draws on her personal and professional experience to communicate the problems of minority groups in Central America and encourages students to engage and empathize with the problems Central Americans face at home and in the diaspora. In their nomination letter, her students added: "Her dedication to the field and her students manifests in the everyday interactions and the passion she communicates and instills in us inside and outside the classroom." 
Jennifer Schwartz, production manager in the School of Theatre, Dance, and Performance Studies | Staff Service Award, Service to Department 
From guiding the season selection process to working backstage for every performance, Jennifer Schwartz is an integral part of the School of Theatre, Dance, and Performance Studies' (TDPS) performance season from beginning to end. Beginning in March 2020, Schwartz has led TDPS through a constantly shifting performance schedule, always modeling "leadership and coolness under pressure," said Maura Keefe, associate professor of dance performance and scholarship and TDPS director. As most academic communities with live performance shuttered their doors, Schwartz stood as a "symbol of strength, organization and forward-thinking," said Jared Mezzocchi, associate professor of dance/theatre design and production. For instance, when "The Revolutionists" became a virtual production, with newly invented individual lighting equipment for each actor at home or in a dorm room, Schwartz drove across the state dropping off the technology. As a result, TDPS' virtual performance experiments have "served as a beacon of inspiration for educational and professional institutions," Mezzocchi said. She has presented on several national panels about TDPS' work during the pandemic.
Kelly Flanagan, research coordinator, Dean's Office | Staff Service Award, Service to College
In her position as dean's office assistant director for sponsored research, Kelly Flanagan guides ARHU faculty and business managers through the process of developing and administering grant proposals and awards. Last year she was critical in filling the gaps left by open business manager positions due to the pandemic and the campus hiring freeze. Meanwhile, she led the Staff Council—and college staff more broadly—in navigating unprecedented times. With other council members, she ensured that staff members had an essential voice in collegewide decisionmaking and had access to events and information that contributed to work-life balance, professional development and morale. For instance, she planned a staff forum with Vice President of Student Affairs Patty Perillo and Director of the University Health Center Spyridon Marinopoulos to discuss COVID-19, return to work and the continued health and safety of ARHU staff members. Flanagan "has continued to find a way for staff to voice concerns and issues … in a positive and accessible manner," said Paige Cook, formerly a guest experience coordinator at The Clarice. 
 For more information on ARHU's service awards and to see previous winners, click here.