Creating Alternate Worlds Through Digital Performance
December 15, 2020 School of Theatre, Dance, and Performance Studies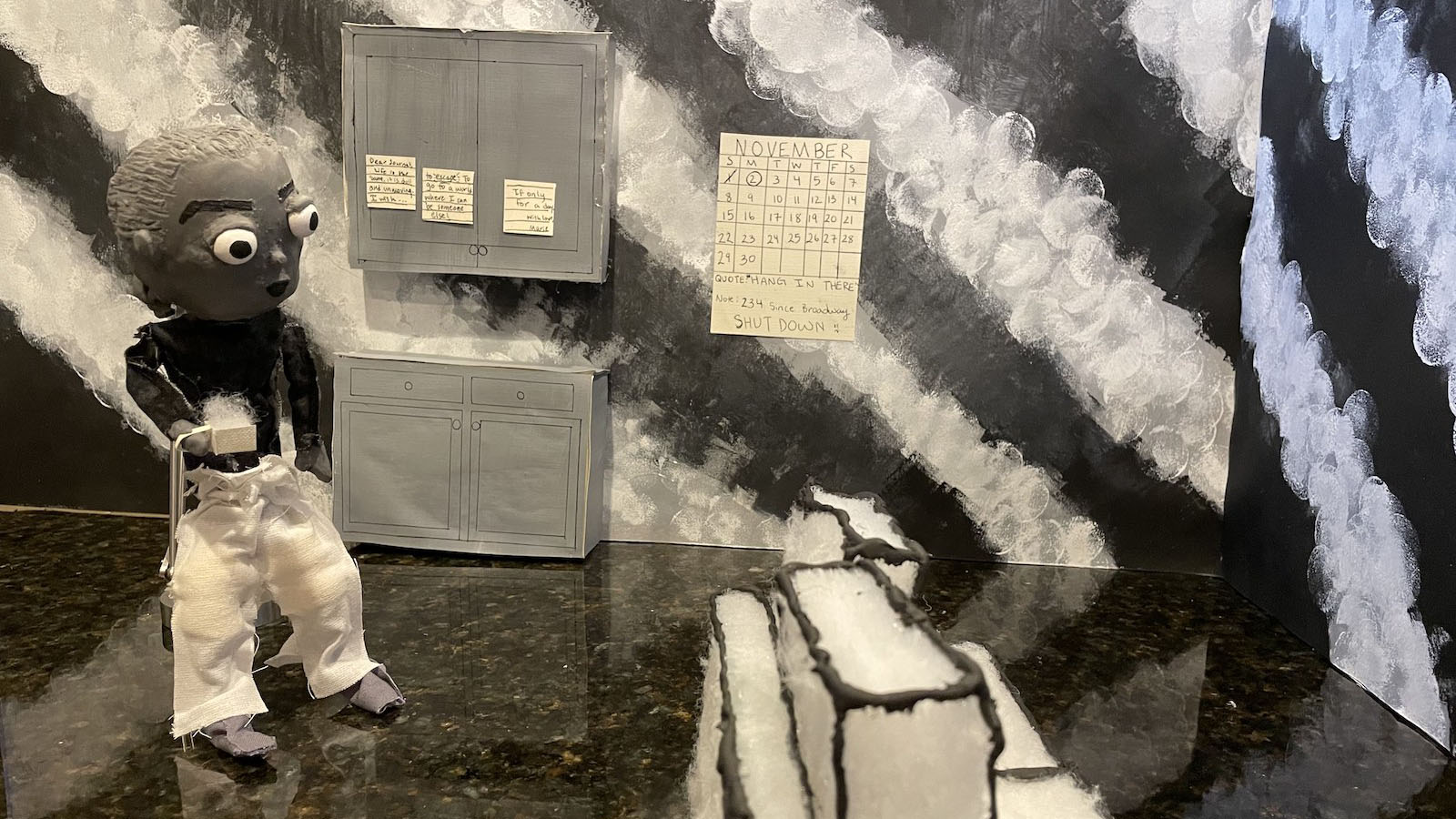 Theater and dance students explore the intersections of art and technology in the virtual classroom.
By Kate Spanos '16 Ph.D. theatre and performance studies
An animated puppet sighs as she marks off another day on her calendar since the shutdown of Broadway theaters. She trudges through her tedious grayscale life and dreams of escaping to worlds filled with vivid colors and new experiences. 
Junior theatre major Layali Aljirafi '22 is using stop motion animation and digital video techniques to juxtapose the dull reality of her character's pandemic life with colorful filmed footage of her family acting out dream worlds inspired by the horror movie "It," the musical "La La Land" and the TV drama series "Euphoria."
Aljirafi's project is for a new course this semester, THET458B: "Exploring and Creating Virtual Performance," offered by the School of Theatre, Dance, and Performance Studies. Co-taught by new faculty members Sam Crawford, a sound and media technologies specialist, and Marielis Garcia, dance artist-in-residence, the course guides students through an exploration of virtual performance, including video game design, short comedies, stop motion animation, dance for the camera and video essays. Students have spent the semester developing a project around a concept of their choice and researching the digital technologies that will help them along the way.
"The project is meant to further their own exploration of digital performance," said Crawford. "Everything is a choice, and students are encouraged to find their own aesthetic."
Through the course's asynchronous format, students build up a toolbox of technical skills, including software tools, such as Isadora, Ableton and Adobe Creative Cloud Suite, and specific camera techniques to create a their desired mise en scène (how the scene is arranged in front of the camera).
"I've created a character who moves through different worlds that alternate between dream and reality," said Aljirafi, who is also a budding costume designer. "I'm using costumes, lighting and camera angles to offer a sense of hope and escape from the real world. This feels important in 2020, when it feels like I'm just living from deadline to deadline."
Ph.D. student Alex Miller is using his time to explore technical skills that will inform his dissertation research about the process of remastering and remixing media in live and digital performance. Miller, who is also working towards a certificate in digital humanities, started with a video game concept and has taken it from design to storyboarding to full implementation. Inspired by the '80s classic Super Mario Brothers game, he is exploring nostalgia in performance and how narratives adapt as new technologies are developed.
"I want to know, if I change the design and use new media, is the magic still there?" said Miller. "What remains from the original narrative when I adapt my own characters and animations?"
Miller's work goes beyond the theoretical exploration of the intersections between performance studies, games studies and computer studies and also requires him to learn hard skills in coding to animate and customize his video game. He has spent hours figuring out how to make his main character walk, run and jump through the world of the game, and to even perform a happy dance when a level is complete.
Senior theatre and marketing major Sadia Alao '20 is also interested in creating alternate worlds in her video essay, which examines "misogynoir"—a term coined by queer Black feminist Moya Bailey to refer to misogyny directed against Black women—and how it is expressed in rap and hip hop music. She is combining found footage with her own original videos to show how Black women like herself are subconsciously affected by what may seem like harmless lyrics.
"I love this music, but I realized how damaging it can be," said Alao. "I've been interested for a long time in how this music creates a negatively warped psychology for Black women. This project gives me the space and time to explore new skills as a filmmaker."
Alao, who is also a visual artist, recently created "A #BLM Picture Book," a book of digital illustrations, quotes and poetry in response to the resurgence of Black Lives Matter protests this past summer. Her video essay is a similar effort to build up the Black community through her art.
Technology provides an opportunity to explore further avenues for personal expression and to build wider audiences and communities. In addition, students in the course are gaining literacy in various digital skills that will help them become more effective collaborators in the professional world. 
"They will be able to communicate effectively with designers, technical specialists, videographers and photographers," said Garcia. "They are learning what is possible, how to talk about it and how to push it to the next level."
Aljirafi confirms that equipping herself with this new knowledge is empowering. "I never thought I would do a project like this, but it has opened up so many possibilities for collaboration and creating new worlds." 
Interested in courses at the intersection of art and technology next semester? Sam Crawford is teaching DANC611: Dance Technology and Media; Marielis Garcia is teaching THET669X/DANC689X: Dance and Design for the Camera.
Video: Alex Miller's wizard character walks and jumps through the world of his customized video game. Top image: Layali Aljirafi's stop motion animation character alternates between grayscale reality and colorful dream worlds inspired by movies such as "It" and "La La Land." Second image: Sadia Alao's video essay explores "misgynoir" in rap and hip hop music and how to counteract negative messages about Black women in popular lyrics.