Crystal Davis is 'Biased About Bias'
November 17, 2023 School of Theatre, Dance, and Performance Studies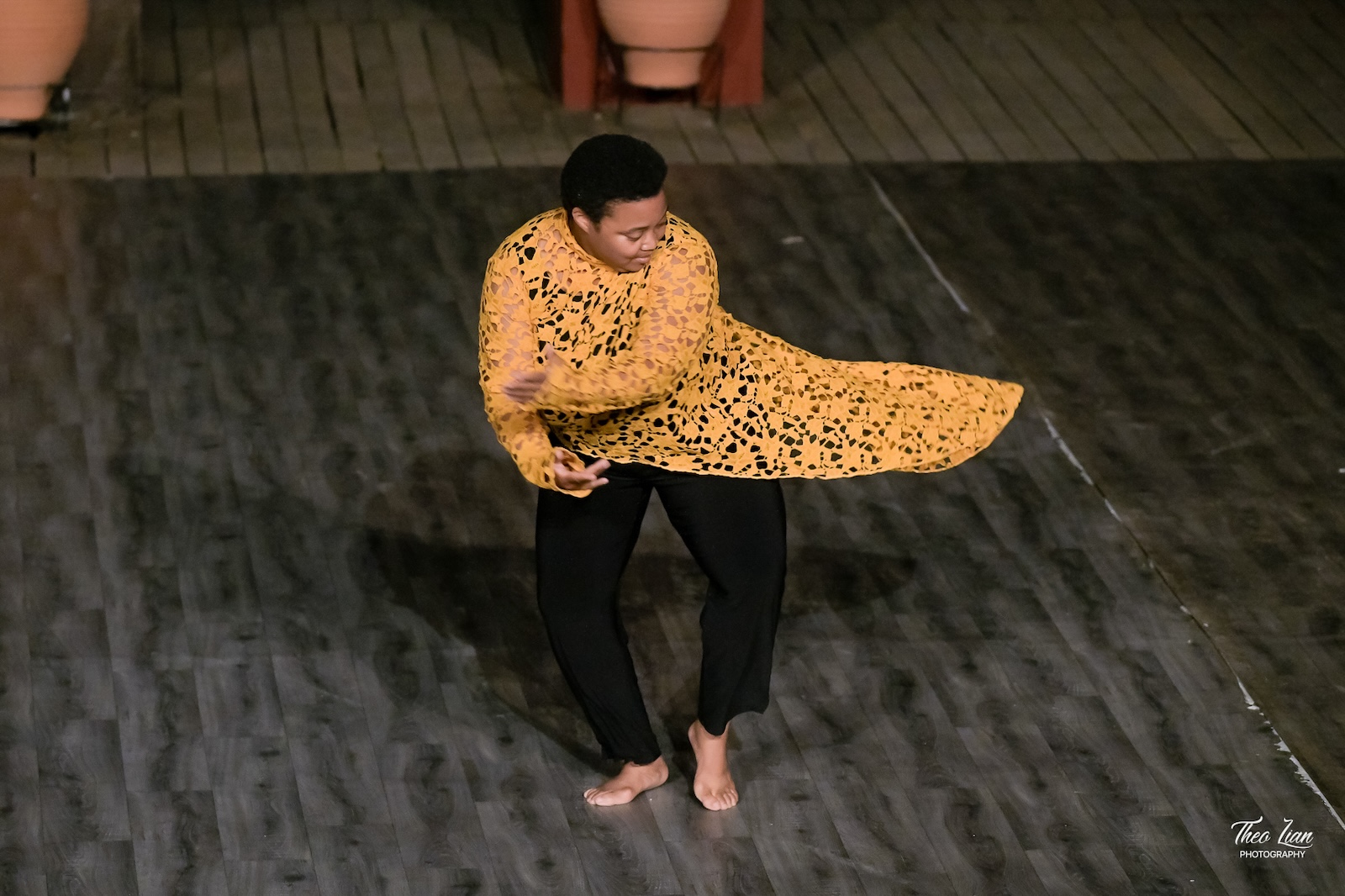 The associate professor of dance says that transparency around bias will ultimately create more welcoming and inclusive dance classrooms.
By Jessica Weiss '05
Growing up as a Black girl in a small city in North Carolina, Crystal Davis often felt like an outsider. But there was one place she always felt at home: in her body in dance class. 
That was where Davis, associate professor of dance in the School of Theatre, Dance, and Performance Studies (TDPS), began to fully understand and articulate herself and her unique perspective. And it's where she first became interested in how others' biases—their preferences, aversions and attitudes—might impact how they experienced her body in motion.  
Now a dance educator and researcher of implicit bias in dance, Davis' research uses a critical theory framework to explore how social norms, stereotypes and biases are embedded into the field of dance, from choreography and technique to curriculum design. She encourages students not to shy away from or be scared of their biases, but to dive more deeply into them.
"Biases reflect our histories and lived experiences and are reflected in how we create and experience art," said Davis, head of Dance Performance and Scholarship. "That's a powerful lens through which to think about a unique creative style and creative processes and decisions." 
The seeds of her scholarship were planted during her undergraduate studies in comparative religion and dance at Emory University. During a semester study abroad in Rajasthan, India, in 1999, Davis became interested in the relationship between religion and Rajasthani folk dance, a rich and varied cultural heritage. Seeing the ways that religious beliefs "organized the body and aesthetics" of the form ignited an interest that continues to guide her inquiry decades later. 
Her first book, "Dance and Belonging: Implicit Bias and Inclusion in Dance Education," published last year, lays out how bias impacts the brain, perception and decision-making and establishes practical interventions to interrupt it in the dance classroom and in related institutions. It draws on examples from her own lived experiences. 
For example, to disrupt the assumption that dancers should be white, thin, non-disabled-bodied, gender-conforming individuals, Davis said teachers can put visual posters on the studio or classroom walls that depict "a diverse array of atypical dancers." To counter the assumption that ballet is a universal foundation for all dance forms, a dance history teacher could introduce dance forms that are unrelated to ballet or Western dance before touching on the importance of ballet. "The more exposure the mind has to experiences that run counter to the established bias, the more kindling it has to ignite a new perspective," she said. 
Earlier this year, Davis received the National Dance Education Organization's 2023 award for Outstanding Leadership in Justice, Diversity, Equity, & Inclusion, stemming from work she did to track how bias was showing up in the organization's own scholarship award selection. While chairing their first diversity, equity and inclusion committee during the pandemic, she instituted a system for collecting demographic data of the organization's members and put protocols in place to minimize the impact of biases on the selection process. 
"I like to say that I'm biased about bias," Davis said. "I see it everywhere I look. I can't go anywhere without thinking about it." 
Davis is currently researching dance faculty working in higher education administration to better understand the challenges they face and benefits of having them in leadership roles. After taking part in the inaugural UMD cohort of the Breaking the M.O.L.D. initiative, she won a Professional Development Award to fund the year-long research project.
She's also begun implementing measures to track the impacts of bias in her unit in TDPS—whether related to leave policies, budgets and beyond. The resulting data is shared with colleagues to create transparency around policies and processes. Though still new, she said the measures have been "generative" thus far. 
In TDPS, Davis teaches anti-racist pedagogy for dance and theater, modern dance technique, somatics and movement analysis. She has supervised students attaining their state teaching certification and previously served as the head of the M.F.A. in Dance Program. In her dance pedagogy and graduate teaching courses, students learn to track and measure their own biases, and practical ways to interrupt them.  
While this work can be difficult, Davis said it will ultimately lead to more welcoming and inclusive dance classrooms. And that's critical to begin to undo the biases baked deep into the fabric of dance education.
"We have the opportunity and responsibility to give students a fuller sense of themselves and their possibilities in the world," she said. 
Top image by Theo Lian, July 2023 at Dora Stratou Dance Theatre, Philopappou Hill, Athens, Greece. Second image by Ursula Payne, October 30, 2023 at Slippery Rock University.