Lighting the Digital Stage
March 09, 2021 School of Theatre, Dance, and Performance Studies | College of Arts and Humanities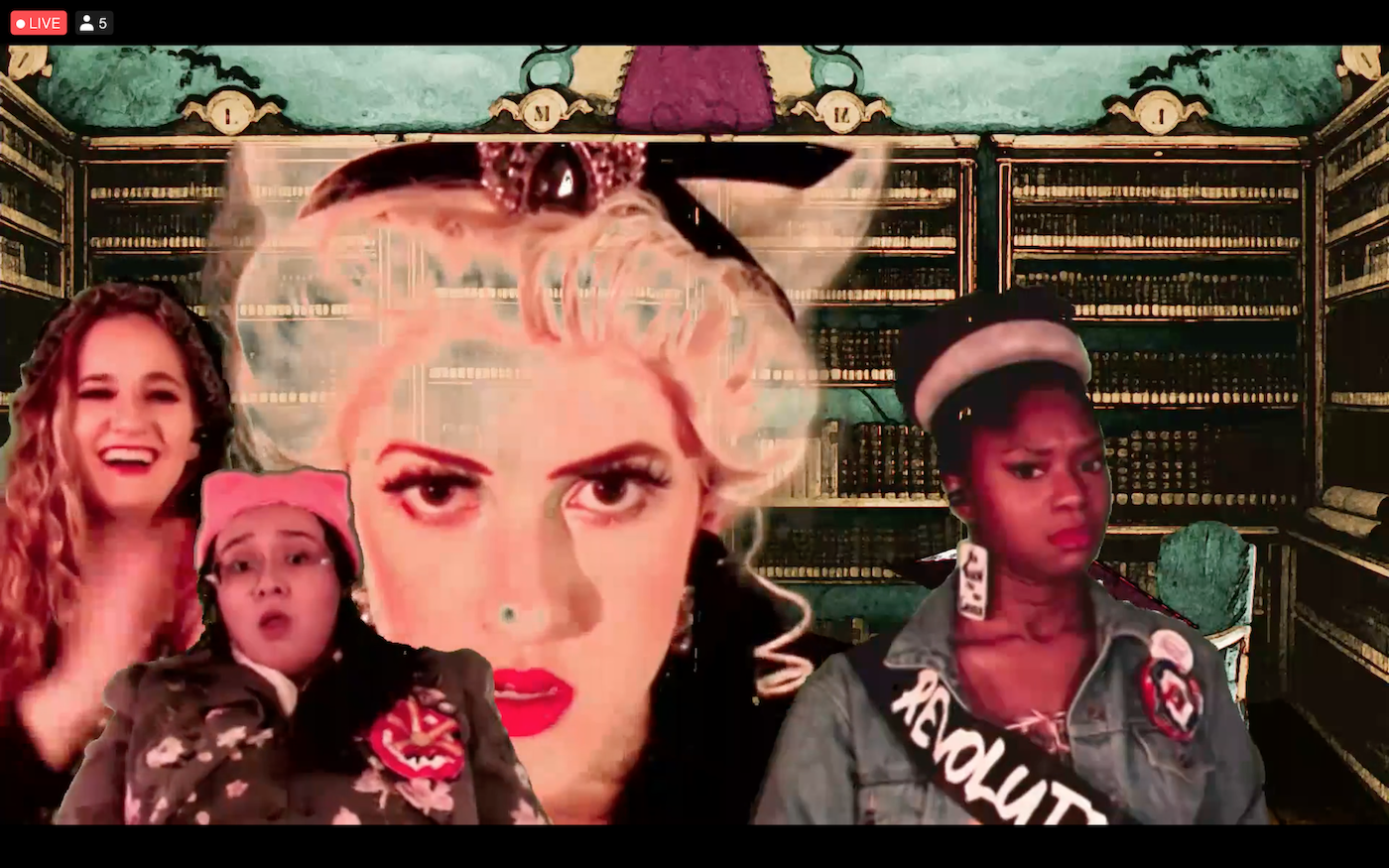 With storytelling occuring in a virtual Zoom room instead of a shared theater space, UMD lighting designers get creative to convey emotion to audiences watching from their homes.
By Kate Spanos '16 Ph.D. theatre and performance studies
In visual performance, light and shadow are used to convey emotional complexity. But when that storytelling occurs in a Zoom room, designers face the challenge of lighting a play in a way that radiates a broad palette of human emotion into people's homes.
This spring, the School of Theatre, Dance, and Performance Studies (TDPS) is harnessing innovative lighting technologies developed by a faculty and alumni duo for a fully digital production of Lauren Gunderson's "The Revolutionists," a raucous comedy juxtaposed against the somber background of the French Revolution that touches on themes of feminism and activism. Despite the fact that each actor, designer and production crew member is in physical isolation due to the COVID-19 pandemic, the team is working to create a sense of shared space and intimacy through lighting. 
"We are using new technology that enables us to control lighting remotely," said Director and Associate Professor of Theatre Leigh Wilson Smiley. "This expands the possibilities for our school to produce high quality virtual theater."
Lighting designer J. Mitchell Cronin demonstrates the use of a small device to create a shadow of prison bars in The Revolutionists. Video credit: J. Mitchell Cronin.
In April, just after most area theaters closed down due to the pandemic, Lecturer in Dance/Theatre Design and Production Andrew Cissna approached M.F.A. lighting design alum Peter Leibold '19, a lighting designer in the Washington, D.C. area, with the idea to create a solution for wireless lighting for the virtual stage. Over the past year, they have developed their own proprietary software and hardware and formed a new company called BoldARC Lighting. They worked with a software engineer to develop the application and are building their own lighting equipment with 3D printers in their basements.
"We send the equipment to the actors and, with the lights set up in each of their individual spaces and the software installed on each of their computers, the designer can control their lighting from anywhere in the world," said Cissna. "There are no touch points at all."
For "The Revolutionists," TDPS actors received two of the lighting kits built by Cissna and Leibold, each containing three lights and one piece of LED tape to use in the background. TDPS also sent high quality cameras, ear pods and green screens to create visual cohesion and sonic consistency. 
M.F.A. lighting design candidate J. Mitchell Cronin, lighting designer for the show, will use the new technology to work behind the scenes controlling the lighting in each actor's personal space.
"It's an entirely different way to work," said Cronin, who also designed the lighting for the regional premiere of "The Revolutionists" in Houston in 2016.
"Usually I design for a single stage or space that performers and audiences share," he said. "With a Zoom production, I have to work with each actor individually to light their personal performance space—usually their bedroom—so that audiences believe that they are in the same world."
This new mode of performance requires creative thinking and lots of experimentation. Purples may look more blue on camera, and a lighting scheme that looks well balanced in person may be washed out on video. 
Smiley said that one advantage to lighting students individually is that lighting can be personalized for an actor's skin tone. With the software, Cronin is able to control the color palette and the balance of light and dark for each actor, providing a more equitable lighting solution than he has been able to achieve in a shared space.
"I've spent my career learning about how the human eye takes in light, but now I have to see my designs through a new lens—quite literally," said Cronin. "How do cameras pick up light? How are people at home seeing my work through the lens of the camera?"
Cronin has spent many hours in The Clarice's lighting lab testing out ideas and learning how cameras deal with light, saturation and color temperature. Design classes at TDPS now include lessons in lighting for the camera, and Cissna has brought in professional guest videographers to work with students on new concepts and vocabulary for digital performance.
These considerations are key for "The Revolutionists," said Smiley, noting that lighting is central to portraying the subtle and complex emotions of the dark comedy. The lighting designer makes decisions about color, intensity, saturation, softness and exposure to convey happiness, sadness, fear, mystery, delicacy or anger in specific scenes.
"Cissna and Leibold have created a great gift for us to control the lighting from a safe distance," she said. "And Cronin's design creates a certain lighting intimacy that invites audiences into the story."
"The Revolutionists" will stream live on March 10 & 11 at 7:30 p.m. Free registration for tickets is available at theclarice.umd.edu/events/2021/the-revolutionists. 
Directed by Leigh Wilson Smiley. Scenic design by Yi Lin Zhao, costume design by Madison Booth, lighting design by J. Mitchell Cronin, projection design by Zavier Taylor, sound design by Justin Johnson and vocals design by Sam Crawford. Inset photo credit: David Andrews.