Making All The Right Noise
February 21, 2020 School of Theatre, Dance, and Performance Studies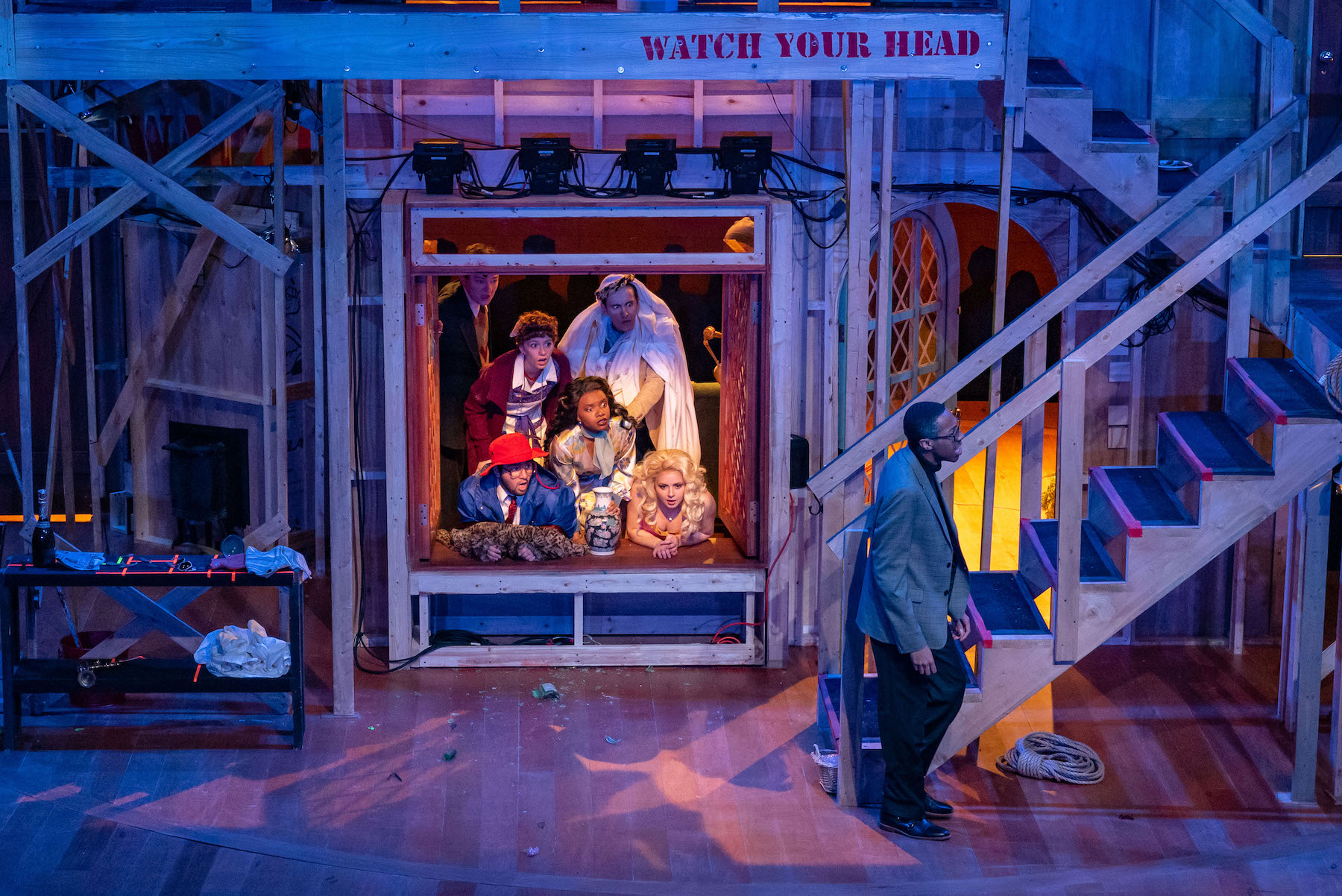 Theatre students juggle chaos and fun in comedy 'Noises Off.'
By Kate Spanos '16 Ph.D. theatre and performance studies
Missed cues, jealous lovers and a lost contact lens are just some of the mishaps bound to happen behind the scenes of a play.
This weekend, they'll take center stage as the School of Theatre, Dance, and Performance Studies opens its production of Michael Frayn's award-winning British farce "Noises Off," the smash hit that follows a group of frenzied actors as they rehearse and perform the tawdry "Nothing On."
Theatre major Taylor Stokes '20 — who plays both middle-aged television star Dotty and Electrician Erin, the troupe's master electrician — said she thinks the show, featuring slapstick humor, exaggerated situations and entertaining love triangles, will delight audiences.
"I think it is crucial for art to have a political or social message, but I also think that it's okay for people to simply laugh sometimes," she says.
The fast-paced show also challenges student actors. They've learned to stay in character amidst the chaos of the comedic situations and perform in the dialect required by the English setting. The countless transitions in both "Noises Off" and its play-within-a-play also demand collaboration among all members of the team — from actors and designers to stage managers and running crew. 
"Our ultimate goal during the process has been to collectively explore and learn what makes comedy compelling," says director Lisa Nathans. "We're excited for audiences to experience the vibrant chaos and fun." 
"Noises Off" runs from February 21-29 at The Clarice. Tickets are available here.
Scenic design by Ryan Fox (M.F.A. Design '20), costume design by Ashlynne Ludwig (M.F.A. Design '22) and lighting design by J. Mitchell Cronin (M.F.A. Design '22), sound design by Bill Brandwein, dramaturgy by Christen Mandracchia (Ph.D. candidate).
Photos by Dylan Singleton.