November 17, 2022 School of Theatre, Dance, and Performance Studies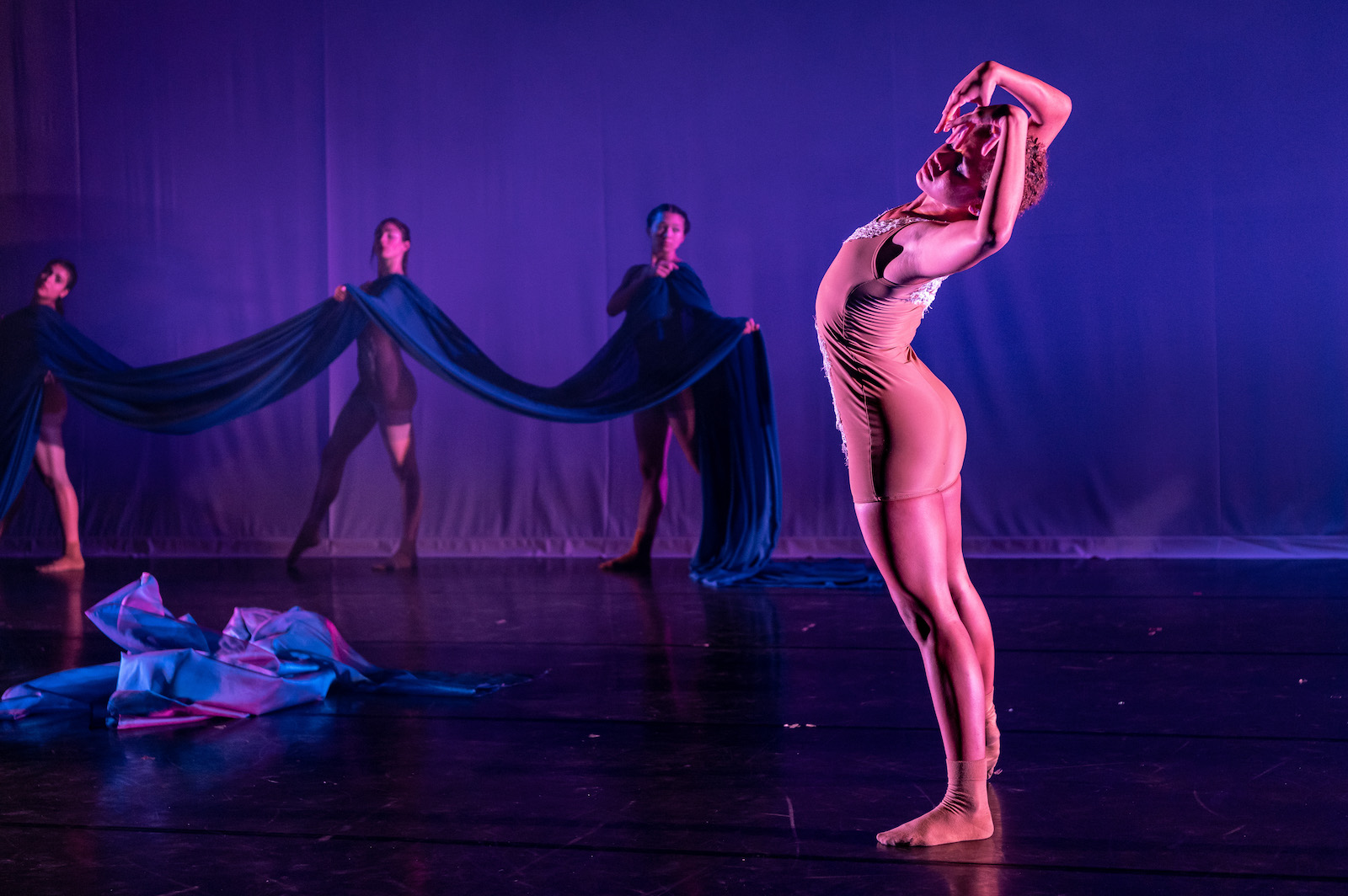 M.F.A. candidates Caroline Rocher Barnes, Cyrah L. Ward and Carlo Antonio Villanueva present their thesis performances Nov. 17-20.
By Jessica Weiss '05 
A performance of ballet that highlights the unconventional ballet body. Movement that "privileges the Black gaze." And contemporary postmodern improvisation. 
In three unique, genre-bending performances, M.F.A. dance candidates in the School of Theatre, Dance, and Performance Studies will present their thesis works at The Clarice Smith Performing Arts Center over the coming days. The culmination of the three-year degree, the works also showcase collaboration with fellow M.F.A. candidates in lighting, set, costume and media/projection design. 
Learn more about the artists and their works below. 
Caroline Rocher Barnes' "Bodily Intelligence" is a nod to the artist's nearly four-decade relationship with ballet as it explores how dancers with a variety of backgrounds and training can redefine what classical ballet looks like in the 21st century. Barnes spent 20 years as a ballet performer with esteemed companies in New York, Germany, France and San Francisco, but said she always struggled with the idea of "conforming" and never felt like the "conventional ballerina." The piece delves into these threads through the choreography of eight TDPS student dancers, many of whose training isn't based in ballet. For instance, sophomore Debanshi Chowdhury '25 has a classical Indian dance background. "I'm playing with how different bodies can come together and still respect the essence of ballet," Barnes said.  
Cyrah L. Ward's "Black Is Holy: A Word," at its core, yearns to speak directly to Black people, through both movement and aura. Combining "the sacred and the secular," the piece features Ward and fellow student Ronya-Lee Anderson presenting far-ranging choreography set to jazz, including a track from Ward's own trumpeter father. But it's not just dancing; the piece also features spoken words, film, archival images and poetry. Ward, formerly a performer with Brooklyn's Urban Bush Women, says they create work as a spiritual practice and aim to incorporate all the facets of who they are—from their ancestral lineage to their roots in the Baptist church to the shorthand ways they communicate with their community—into their storytelling. "I'm exploring what it means to privilege the gaze of my people and to do so unapologetically," Ward said. "I want to stay steadfast in the thing I already am, and that is a Black woman." 
Carlo Antonio Villanueva's "Last Dance, Lost Dance" aims to take the audience on a journey that might look and feel different for every attendee. Featuring dance improvisation and non-traditional design elements in an abstract composition, Villanueva said audience members should come with an open mind and follow their "senses and inner voice [to] construct meaning on their own." Stemming from his years in New York as a professional dancer in both company and freelance settings, Villanueva's work is influenced by the idea of "resource scarcity" in dance—whether finding workarounds for challenging spaces or ways to create art on small budgets. Even with all the resources that UMD offers, he aims to bring that "DIY vibe" into his work to "make something wild and crazy that is consistently unpredictable." The piece features eight undergraduate and graduate students with varying interests and levels of experience and includes Villanueva himself. 
Reserve tickets here.
Photos by Dylan Singleton.