Stage management students from National Academy of Chinese Theatre Arts finish up internship at UMD TDPS
December 14, 2017 School of Theatre, Dance, and Performance Studies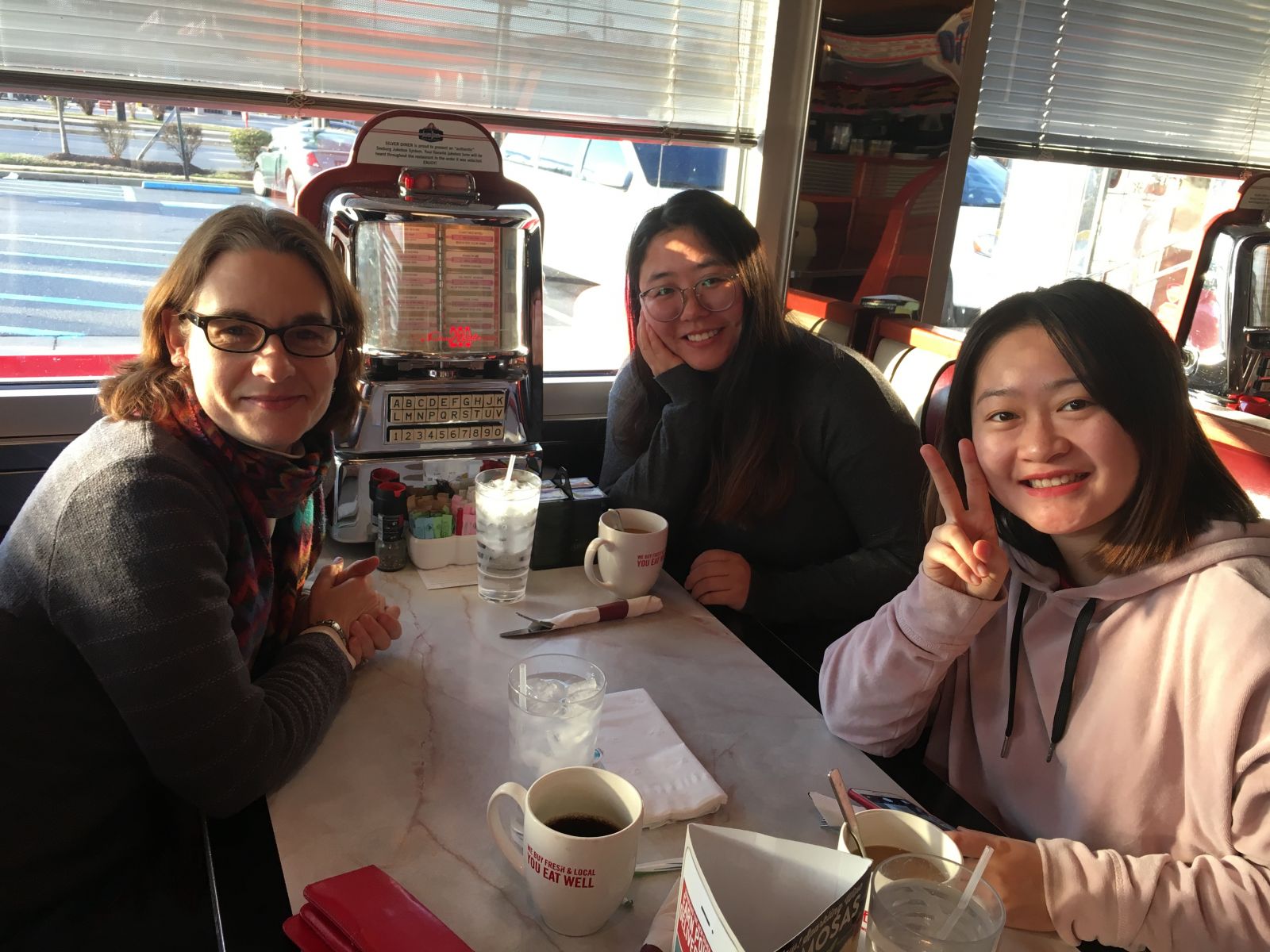 Gao Jing and Zhang Yuanyuan just completed their two-month internship with our production manager, Cary Gillett, at the School of Theatre, Dance, and Performance Studies, as visitors from the National Academy of Chinese Theatre Arts in Beijing.
Gao Jing and Zhang Yuanyuan have just completed their two-month internship at the School of Theatre, Dance, and Performance Studies, as visitors from the National Academy of Chinese Theatre Arts (NACTA) in Beijing. They have been under the tutelage of our production manager, Cary Gillett, who is spearheading a stage management training program at NACTA, the first of its kind in China.
The relationship between TDPS and NACTA can be traced back to our Fall 2012 production of Shakespeare's A Midusmmer Night's Dream, which was a bilingual co-production that was staged at both The Clarice at the University of Maryland and at NACTA in Beijing. Students from both institutions traveled between the United States and China to collaborate on the multi-year project.
In the process of creating A Midsummer Night's Dream, Gillett began to foster a relationship with NACTA to bring her expertise in production and stage management to the collaboration. Gao and Zhang both worked on that project and became interested in the role of stage manager when they met and worked with Gillett and TDPS student stage managers. NACTA primarily offers training in the tradition of Peking Opera, which does not include the production role of stage manager, and while academy also offers a focus in Theatre Drama, the concept of a stage manager is foreign. According to Gao and Zhang, usually the designers do the work of a stage manager for their specific focus--for example, the lighting designer would take care of the lighting cues. While stage management exists in other parts of China, it is not very common, and Gillett aims to share her stage management skills to offer additional ways of thinking about how a production is executed, from start to finish.
While at TDPS this semester, Gao and Zhang were able to work as assistant stage managers on Main Season and Second Second productions, such as our Faculty Dance Concert (December 8-10) and Finding Space Between by Emily Ames and Amber Chabus and i'm just trying to stay here by Les Gray (November 17-18). In addition to working with our all-star production staff, they also worked with undergraduate mentors who are focusing on stage management. In addition, they had the opportunity to shadow stage managers in the area such as former TDPS student Madison Bahr, now working at Imagination Stage, and most recently Craig Horness at Ford's Theatre.  Gao and Zhang said that those relationships have been crucial to their education, as they have learned from both theatre professionals and their student peers. Gao and Zhang will return to China now and both want to become professional stage managers in the future.
TDPS is thrilled that Gillett has maintained this relationship with NACTA over the years, and she continues to work to bring stage management training to the academy. She has traveled to Beijing for the past three years, and she regularly teaches stage management classes to NACTA's students via Skype. Semester exchanges like the one Gao and Zhang just completed are a great example of the international collaborations that TDPS strives to foster, and we plan to build on this momentum to establish more collaborations in the future.
By Kate Spanos
Zhang Yuanyuan and Cary Gillett in the light lab working a on a cue calling exercise
Gao Jing working on the backstage run book
Zhang Yuanyuan poses with dancers Ryan Corriston (left) and Alex Springer (right) in rehearsal for Adriane Fang's "conflict/Resolve" at the Faculty Dance Concert
Gao Jing and Zhang Yuanyuan with undergraduate stage manager Evangelina Hakes
Gao Jing and Zhang Yuanyuan with Gillett's Introduction to Stage Management class