On Stage, Women Create Space of Their Own
March 04, 2022 School of Theatre, Dance, and Performance Studies | College of Arts and Humanities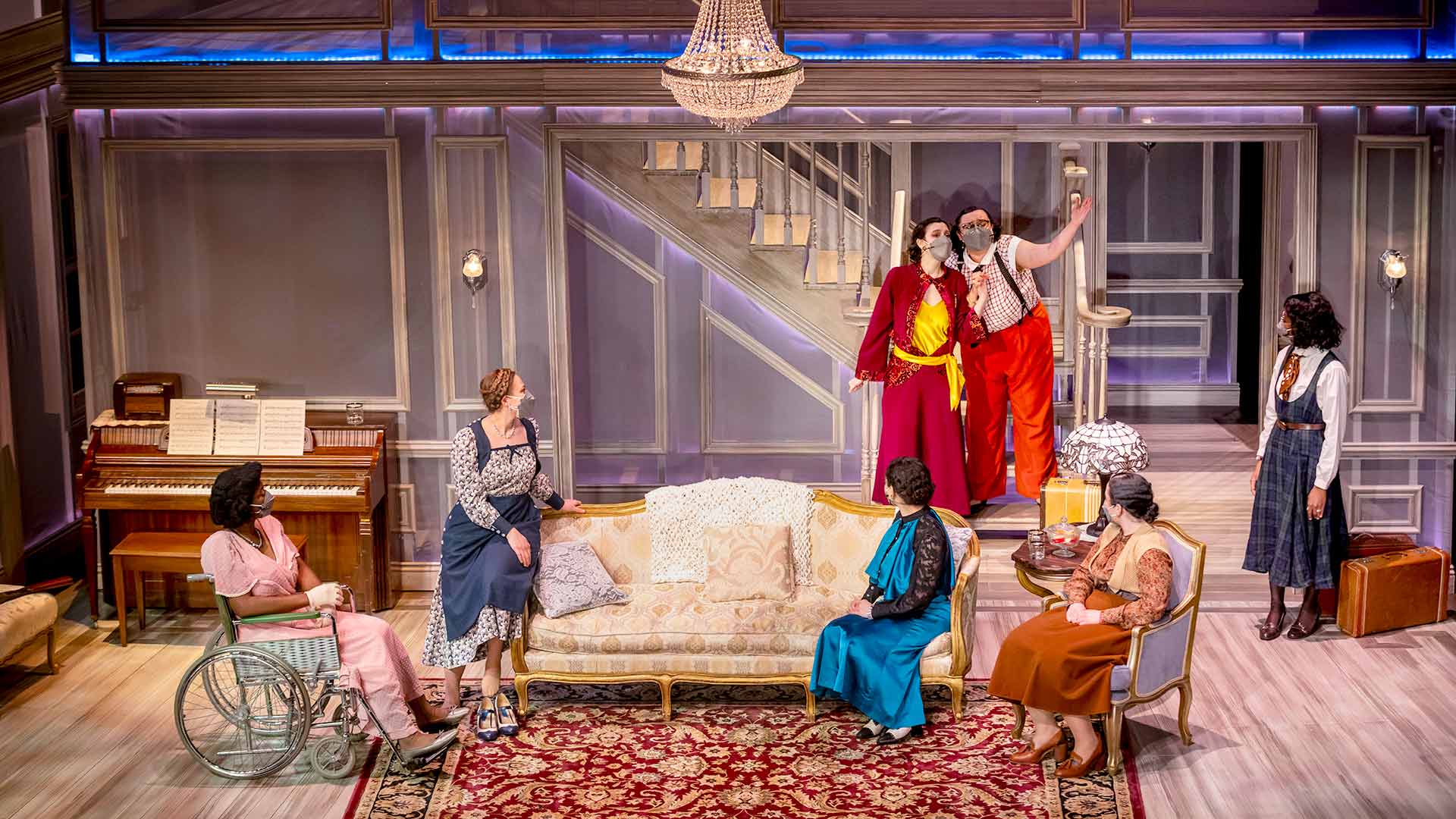 TDPS kicks off Women's History Month with a play about a group of women who bond over their loneliness, fears and secrets.
By Kate Spanos Ph.D. theatre and performance studies '16 | Maryland Today
Eight women meet for lunch at a New England country estate in 1935, chattering about their marriages, playing tennis and drinking lemonade. But their conversations turn deeper—one friend's recounting of a strange dream suggests experiences of sexual harassment, and another's recitation of a Shakespearean sonnet reflects the pressures she feels to bear children.
This female camaraderie and intimacy is at the core of "Fefu and Her Friends," a play by the late Cuban playwright María Irene Fornés presented by the School of Theatre, Dance, and Performance Studies this weekend at The Clarice Smith Performing Arts Center. Cast members say they've reflected on how patriarchy impacts women's desires and what they say and how they behave in society.
The central character, Fefu, a philanthropist who supports education, grapples with her womanhood. In the shocking first line of the play, she declares: "My husband married me to have a constant reminder of how loathsome women are."
Fefu desires "to think and feel more like a man because of their 'natural' strength and rationality," said senior theatre major Natalia Huitz Corvoisier, who is playing Fefu. "I personally don't agree with her yearning to be more like a man, so it was hard at first to identify with this role."
Fornés has said that when she wrote the play in 1977, she intended to create distance from second wave feminism, which sought to challenge patriarchal social structures at home and in the workplace.
"Fornés didn't want the play to be outwardly political or feminist," said junior theatre major Leah Packer, who plays Emma, a bubbly and optimistic character. "Instead, she focused more on joy and friendship between women, which makes her work timeless and still relevant today."
The play does not follow a linear storyline, but instead drops in and out of personal conversations between the women during their lunch reunion. The cast participated in intimacy coaching that helped them be vulnerable on stage together, including when talking about difficult topics like abuse.
"The play is about countering the stereotype that women are hysterical or emotionally unstable, but able to open up and share their insecurities in this shared space," said Favour Ogbue, a senior theatre major playing the role of Julia, who struggles throughout the play with the physical and emotional effects of a bizarre accident and possible assault.
Fornés, who died in 2018, wrote and directed plays and started the first Hispanic Playwrights-in-Residence Laboratory at International Relations Arts Theatre in New York City, where she trained many successful Latinx playwrights. TDPS' production of "Fefu" is directed by Kelsey Mesa, a Cuban American and manager of the American College Theater Festival and theatre education at the Kennedy Center, who remembers learning of Fornés' work more than a decade ago.
"Her work provided a perspective that I needed when I was in college far away from home, when I felt like a stranger in every room," she said. "This play helps us envision social structures in which women can be themselves."
See more photos in Maryland Today.

-----
"Fefu and Her Friends" by María Irene Fornés. Directed by Kelsey Mesa. Scenic design by Brandon Roak (M.F.A. design '24), costume design by Becca Janney (M.F.A. design '24), lighting design by Eric Pitney (M.F.A. design '22), sound design by Kaydin Hamby and projection design by Devin Kinch (M.F.A. design '22), with stage manager Kate Wander '22 (theatre).
The show is part of Arts for All, a new campuswide initiative that aims to create new opportunities for students and faculty across disciplines to fuse the arts, technology and social justice.
Photo: The cast of the School of Theatre, Dance, and Performance Studies' new production of "Fefu and Her Friends" includes Fefu (Natalia Huitz Corvoisier '22) gathers with her friends Julia (Favour Ogbue '22), Cindy (Celia Richardson '22), Christina (Grace Guzman '24), Paula (Carolina Tomasi '22), Emma (Leah Packer '23) and Sue (Hannah Damanka '23). Photo credit: Stephanie S. Cordle, Maryland Today.