TDPS Welcomes New Faculty Members
September 23, 2022 School of Theatre, Dance, and Performance Studies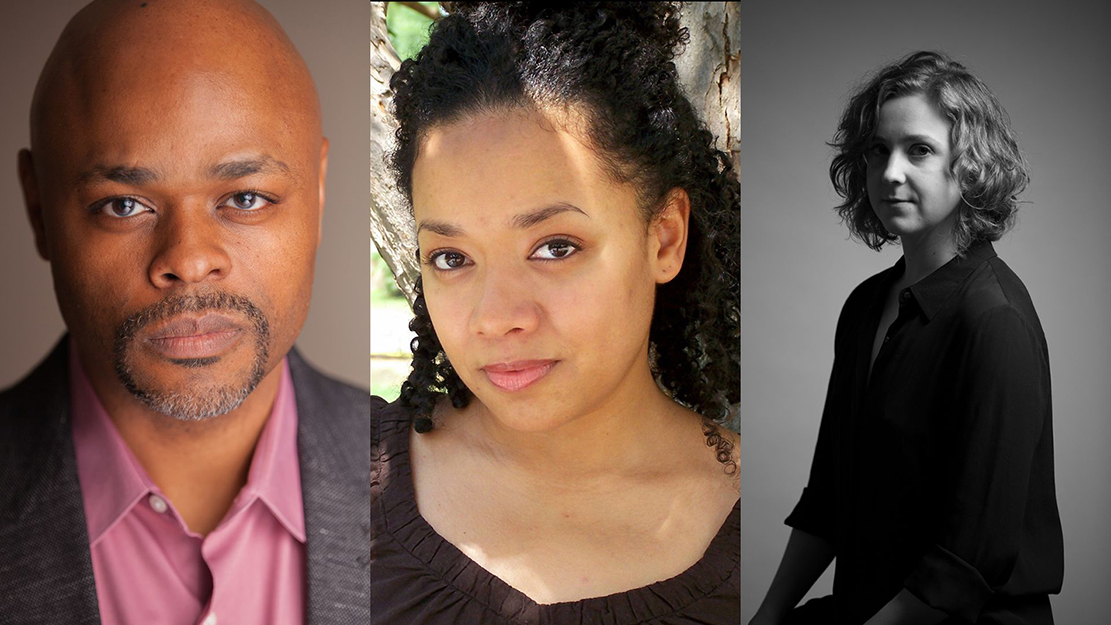 Two artist-scholars join the TDPS faculty in Fall 2022; one faculty member joins Maya Brin Institute.
The School of Theatre, Dance, and Performance Studies (TDPS) welcomes two new faculty members this fall: artist-in-residence Kate Ladenheim and assistant professor KenYatta Rogers. TDPS also welcomes lecturer Fatima Quander to a new role in the Maya Brin Institute for New Performance.
Kate Ladenheim is a choreographer, media designer and creative technologist whose work spans interactive installations, media design, performance and robotics. As the artist-in-residence, she researches bodies in motion and how they impact and are impacted by systems of social and technological pressure.
Ladenheim holds an M.F.A. in media design practices from ArtCenter College of Design. She has conducted research in motion interfaces for robotics design at the University of California-Los Angeles and was the 2019–20 artist in residence at the Robotics, Automation, & Dance Lab at the University of Illinois at Champaign-Urbana. Her artistic projects have been presented internationally, including at The Invisible Dog, National Sawdust, GrizzlyGrizzly, Brown University, Joe's Pub at The Public Theater, The Edinburgh Fringe Festival and The Performance Arcade (New Zealand). Her work has been celebrated in Dance Magazine as one of their "25 to Watch" and "Best of 2018."
Fatima Quander is now a lecturer of acting for live digital performance in the Maya Brin Institute for New Performance. She previously served as lecturer in acting and public speaking/oral communication in TDPS.
Quander is an accomplished professional actor and member of both Actors' Equity Association (AEA) and Screen Actors Guild-American Federation of Television and Radio Artists (SAG-AFTRA). Quander previously taught at Howard Community College and the University of Maryland, Baltimore County. Additionally, she serves as a guest instructor at Beloit College, her alma mater. Quander is a company member with Young Playwrights' Theater and served as the director of The Vanguard, FRESHH Inc. Theatre Company's Black women's acting ensemble, where she led master classes and workshops on theatre techniques, professions, and the business of acting. As a teaching artist, Quander works with a number of theatres and programs throughout the Washington, D.C. area.
KenYatta Rogers joins UMD as an assistant professor of theatre. His primary area of focus is applying embodied theater practices from the African diaspora to actor training for the 21st century.
Rogers earned an M.F.A. in acting from the University of Pittsburgh. After teaching at South Carolina State University he taught at Montgomery College for over 20 years, where he was named the 2014 Maryland Professor of the Year by the Carnegie Foundation for the Advancement of Teaching. Rogers is an actor and director with more than 70 regional theater productions and over 100 voiceover, film and television credits. He works in both traditional and devised performance forms resulting in offerings as varied as a multilingual presentation of Lorraine Hansberry's "A Raisin in the Sun" (combining casts from South Africa, Sweden and the U.S.) to a production of Mozart's "The Magic Flute" reimagined through the lens of race and gender. Rogers directed TDPS' April 2022 production of Stick Fly.