Theater Community Pivots To Another Kind Of Mask
April 10, 2020 School of Theatre, Dance, and Performance Studies | The Clarice Smith Performing Arts Center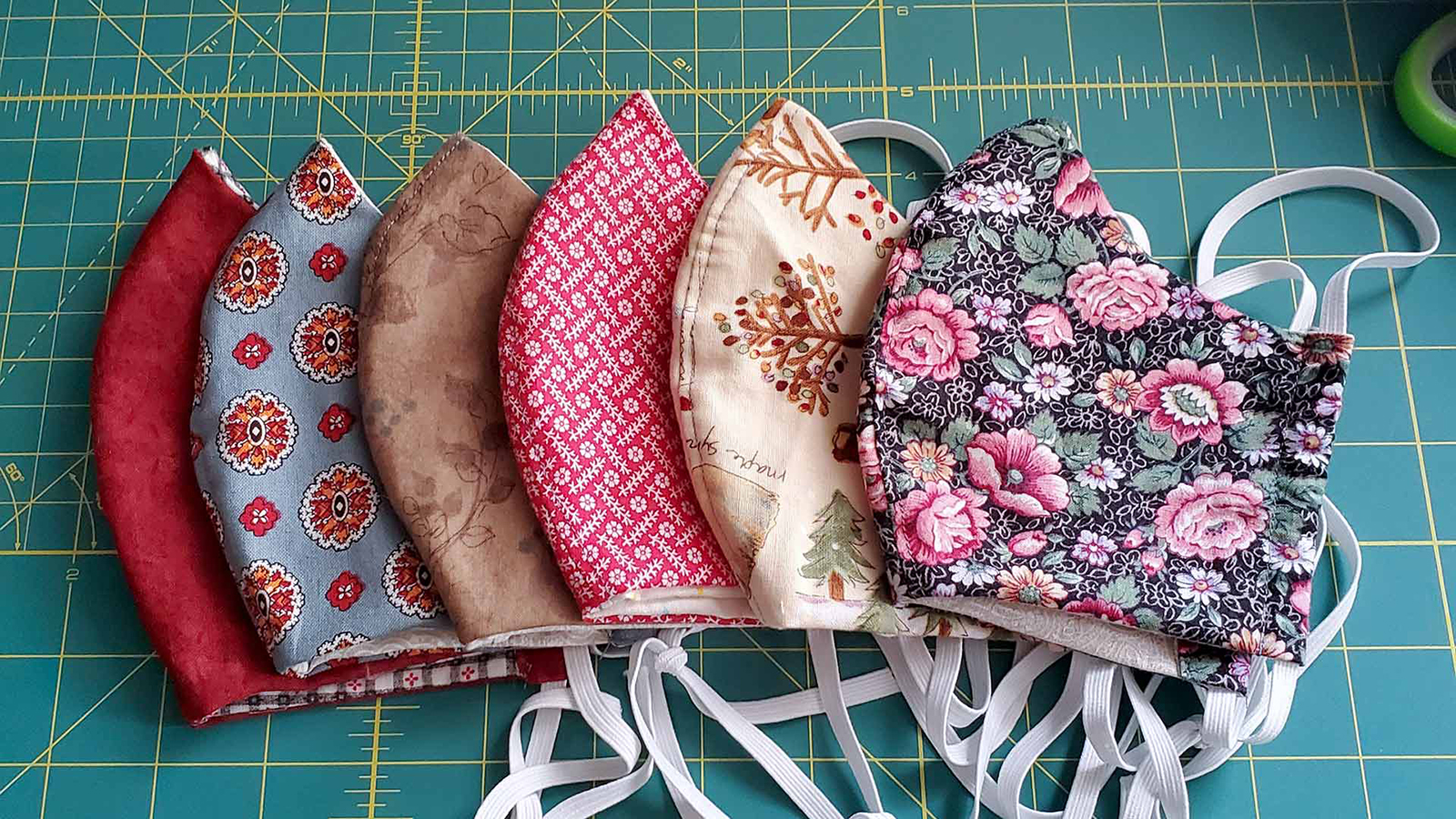 Theater community pivots to another kind of mask.
By Kate Spanos '16 Ph.D. theatre and performance studies | Maryland Today
While the curtain has fallen on theater productions everywhere amid the COVID-19 outbreak, costume designers are hardly sitting idle. Instead, many are powering up their sewing machines to produce the protective face masks in such critical demand for medical and emergency workers.
Costume design alum Deb Sivigny '04 M.F.A. is leading a local initiative committed to supplying medical workers confronting the crisis. A few weeks ago, a friend in the theater community connected her with a local hospital at risk of running out of personal protective equipment, and she has since built a team of over 50 theater community members from the DMV to contribute to the region's supply of masks. Together they are producing hundreds of masks per week. 
"For costume designers, this is an easy skill to translate," said Sivigny. "All we need are the patterns, fabric, elastic and our sewing machines, and we can get to work."
The initiative is part of a nationwide effort to address the alarming shortage of masks for medical and personal use. In light of recent recommendations from the Centers for Disease Control and Prevention that Americans wear cloth face coverings in public, people have begun to fashion masks out of common household materials, including T-shirts.  
The Clarice's costume shop manager, Jen Daszczyszak, is helping groups including Sivigny's local initiative and Sew the Curve Flat, a national grassroots network of volunteers that takes requests for washable and disposable masks from hospitals and other at-risk communities.
Daszczyszak has recruited all six members of The Clarice costume shop to participate, using equipment and materials that they already have at home.
"Shortly after the lockdown started, I woke up to find a barrage of messages on social media encouraging me to build masks," Daszczyszak said. "I found some old quilting fabric that I had inherited from my mother and grandmother and found the patterns I needed."
Sewing 50 masks can take about a day; the most time-consuming part of the job is cutting the patterns. Daszczyszak explained that some patterns are more complex than others, and some materials are harder to work with, especially the inner filters that offer more protection from airborne particles. These filters and other supplies like elastics are also becoming harder to find.
Theatre major Jasmine Mitchell '21 got the idea to sew cloth masks when she saw that many of her friends and mentors from the School of Theatre, Dance, and Performance Studies were joining the effort to produce personal protective equipment.
"I thought, what can I do as an artist with a set of skills to offer hope and help those in need?" she said.
Between a daily schedule of online classes and rehearsals, Mitchell is sewing as many masks as she can, using skills she learned working in The Clarice costume shop on theater and dance productions. She plans to send the masks to local hospitals, including the University of Maryland Medical Center in Baltimore.
In Florida, theatre alum Randy Lord '77 and his husband Steve Fessler are spending hours each day sewing masks using skills they learned in theater costume shops, with help from YouTube tutorials to learn the specific angles and patterns that offer the best protection. They will donate the masks to elderly and immunocompromised members of their Orlando community.
"As artists, we are used to improvising and finding creative solutions with scarce resources," said Fessler. 
To Sivigny, sewing masks is a tangible way to lend a hand at a time when many are feeling helpless.
"With all that is going on right now, I feel happiest these days when I am able to sit down and sew," said Sivigny. "It is comforting to know that I am able to help." 
Visit SewTheCurveFlat.com if you would like to volunteer to sew masks for the cause, or if you would like to request masks to benefit an at-risk community.
Image info: Masks sewn by Jen Daszczyszak. Lisa Burgess, who works in The Clarice's costume shop, wears one of the masks she's sewn as part of the volunteer effort. Randy Lord '77 (bottom) sews masks that will benefit elderly and immunocompromised residents in his community near Orlando, Fla. (Top mask photo courtesy of Jen Daszczyszak; second image courtesy of Lisa Burgess; Randy Lord photo courtesy of Randy Lord and Steve Fessler.)