Walter Dallas, internationally recognized director, playwright and educator, dies at 73
May 06, 2020 School of Theatre, Dance, and Performance Studies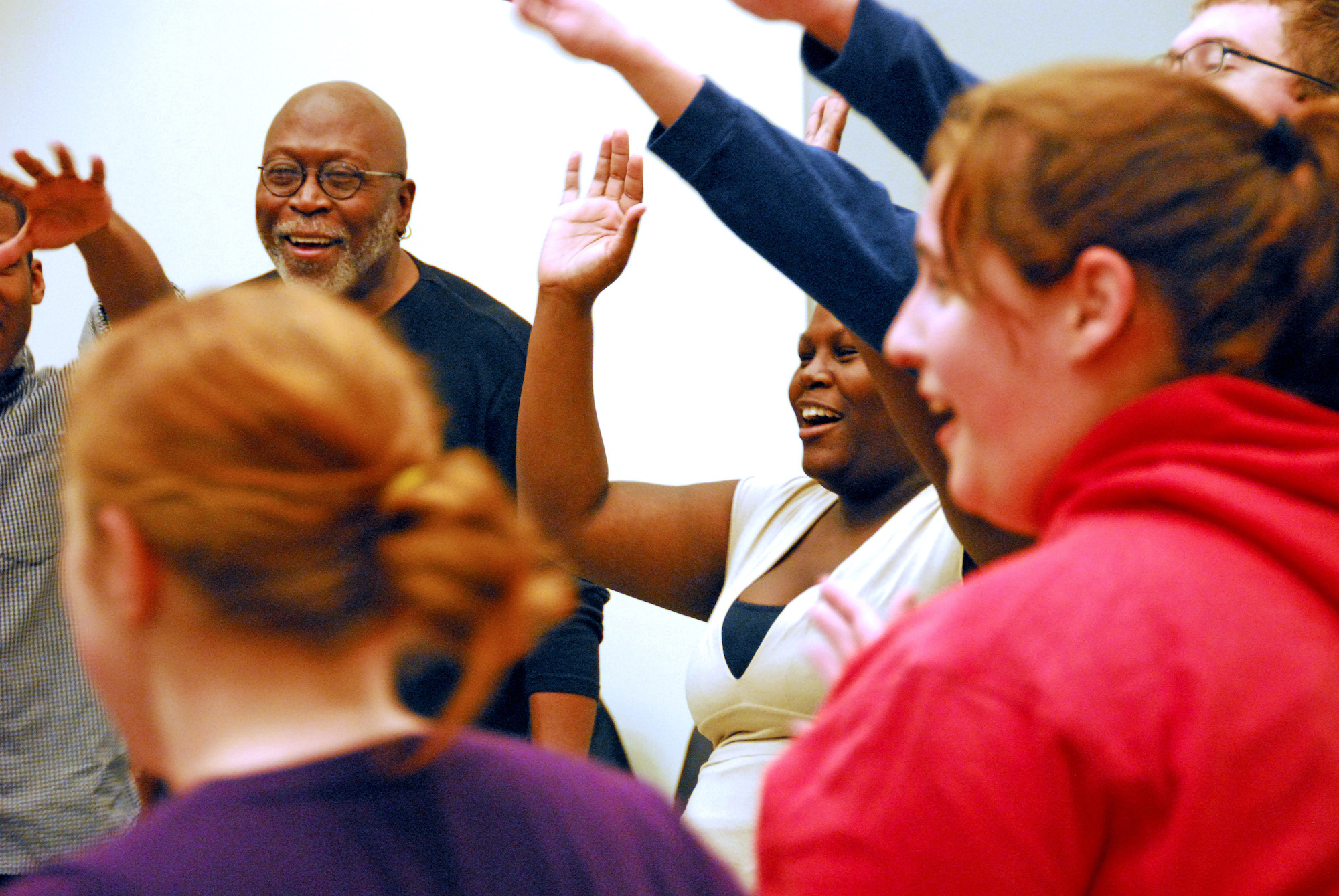 Walter Dallas, TDPS senior artist-in-residence and co-director of the MFA in Performance program from 2008-2013, passed away on Sunday, May 3. He was recognized internationally for his works as director, playwright, musician, photographer and educator.
The theater world lost one of its brightest stars on Sunday, May 3 with the passing of Walter Dallas (1946-2020). Walter Dallas spent a lifetime connecting with people from the stage as a director, writer and performer. Dallas believed, "The power of theater, the power of the arts, is amazing ... often you never know how deeply it affects people." 
Dallas had a huge effect on the students he taught for five years when he was a Senior Artist-in-Residence at the University of Maryland's School of Theatre, Dance, and Performance Studies. Dr. D loved teaching and directing, where he found joy in choosing plays with many layers of passionate, driving concerns and plays that seemed to reflect the concerns of his students: idealism, art, theatre, writing, acting, love, transcendence, identity, longing and unrequited love. He believed that the challenging aches of identity, fulfillment, idealism and needing to be loved are not just issues of young people, but are the sirens that beckon us all.
Dallas was a graduate of Morehouse College and the Yale School of Drama, and he also studied music and theology at Harvard University, and dance and theater in traditional African societies at the University of Ghana at Legon. He created the School of Theatre for Philadelphia's University of the Arts in 1983. In 1992, he left to become artistic director at Freedom Theatre in Philadelphia. He won recognition and many awards for his work Off-Broadway and at regional theaters such as the Negro Ensemble Company, American Place, Yale Rep, Crossroads, Alliance and Baltimore's Center Stage, where he was a directing fellow for the National Endowment for the Arts. At Chicago's Goodman Theatre, he directed the critically acclaimed world premiere of August Wilson's "Seven Guitars," named one of the top 10 best theater events by Time Magazine and a finalist for the Pulitzer prize.
His many awards include an Honorary Doctorate from the University of the Arts, an Emmy Award, New York's prestigious AUDELCO National Achievement Award for Excellence in Black Theatre and several Bronze Jubilee Awards for Outstanding Direction. He received a proclamation, "Walter Dallas Day," from Atlanta's Mayor Maynard Jackson, and two Creative Genius Awards from the Atlanta Circle of Drama Critics. For his production of "Having Our Say" at Los Angeles' Mark Taper Forum he received a NAACP Theatre Award nomination for Best Director. His Off-Broadway production of "Moms" garnered an Obie Award for its star, Clarice Taylor, and resulted in two successful national tours. His production of "Desire Under the Elms" at Chicago's Court Theatre received two Black Theatre Alliance Award nominations. World premieres include works by James Baldwin, Leslie Lee, Sam Kelley, Kia Corthron, Ntozake Shange, Samm-Art Williams, Clarice Taylor, Thulani Davis and others.
An icon in theater, Dr. Dallas believed that the power of the performing arts could turn lives around. There has been much sadness at his death and many public tributes have been paid. Here we'd like to pay our respects to this great artist through student voices. Below, we have included tributes written by undergraduate and graduate alumni who worked with him during his time at TDPS. He has touched the lives of so many students at UMD and these tributes reflect that.
We would also like to share Steven Cohen's insightful in-depth review of Walter Dallas in The Cultural Critic. In addition, Professor Dale Shields had started meeting with Walter to write a book about his life and career. Due to Dr. D's untimely passing, Shields was unable to finish that much anticipated book, but he has provided a comprehensive article from his meetings with Dallas on his website I for Color – African American Voices in Art & History. We'd like to thank Mr. Cohen and Professor Shields for allowing us to include their good and important work.
By Scot Reese, professor of theatre
---
Alumni tributes
Moriamo Tẹmídayọ Akibu, BA Theatre '15
A Memory
The first time I met Dr. D was on my first day of college. He was teaching our Introduction to Acting class, THET222, and I'm pretty sure I was late the first day. No, that's not right. The first day I actually met Dr. Walter Dallas, was April 1, 2011. I was still in high school, and had come to audition for a Creative and Performing Arts Scholarship. I remember standing at the end of our group audition, just as the faculty left the room—God, I was so nervous. As I watched my soon-to-be, hoping-they-would-be professors leave the room—and I called out to him "thank you, Dr. Dallas!" as he passed through the threshold. He turned around to me, and looked me straight in my eye. If this was a movie, you'd see a graphic of my belly drop out of me. That gaze! Like he was looking right into my soul. I think I was sweating, just staring back at him.
Five months later, I am in my very first class of my very first day, and we are playing zoom? One of these circle together games and everyone is chanting like we do, and he is guiding us, revolving around us from the outside. We played this game every day it felt like. And every day he would push us deeper and deeper in, into the meaning and the rhythm and the pace and the focus. But we'd rarely get it. It was our first theatre class, and I had no idea what I was doing, in this classroom or in this major. I remember one day, we were chanting and bobbing, and zapping at each other, making light of the whole thing and losing the rhythm of what is was he was trying to get through to us. And he stops. And we stop. And he says—half grinning at us theatre newborns, and half grimacing, like all good parents do at the state of their offspring—and he says, "Cut the bullsh*t, and play the f**king game." If I wasn't scared sh*tless, I would have laughed out loud. I think my heart stopped. And the room was silent. And then we were in it. For real.
Dr. D had a way of bringing it out of you, whatever it was. And he had a way of helping 17-year-old, first time, soon-to-be, hoping-to-be theater professionals get a little closer to the truth. And he had a way of intimidating the crap out of you, just with his eyes. I'm sure he saw, how badly I wanted to get whatever it was he was looking to give us. I'm sure he also saw that I was failing miserably, at theatre, and at school. I almost failed out of college my freshman year, almost lost my scholarship, all of it. And I remember, as we were rehearsing The Old Settler in the winter term as this news was hitting home for me, how much I was falling in love with what we were doing. And how close I was to losing it all. And I remember Dr. D taking me aside, and seeing me, and telling me that he would do everything he could to make sure I stayed. It was a very quiet conversation, and did not last very long. But I understood in that moment, that he was investing in me. He had my back. And I carried it with me, that investment. And I still do.
I don't know how much of it I owe, but I know I owe Dr. Walter Dallas a part of each of my theatrical successes since that winter. And I hope he knew, and he knows, just how lucky we all were to be his students. How lucky I was to be his student.
You know, the memory gets a little funny, a little fuzzy as this, my life, shifts and grows and changes. But no matter the order, or the feeling, I will remember always how he looked at me and how he saved me.
So, thank you, Dr. D for saving me, for seeing me.
Love,
Tẹmídayọ
--
Caroline Clay, MFA Performance '15
"Hey Clay, it's Dr D. I have a proposition for you. I know you're on Broadway right now, but have you ever considered getting your MFA here at the University of Maryland?" – Dr. Walter Dallas
When I walked across The Clarice auditorium stage to receive my MFA in Performance in the Spring of 2013, a journey came full circle. A journey punctuated by conservatory training, global performance, national tours, film, television, Broadway and academia. A circle that began and would have never been possible without one man, Walter Dallas. I met Walter Dallas ("Dr. D" to his students)  in the Fall of 1986 after graduating from the Duke Ellington School of the Arts. He was the Chair of the Theater Department at the Philadelphia College of Performing Arts, (now UArts). I was accepted as a scholarship student and received my BFA in Theatre Arts in 1990. Walter modeled the program after the training taught at the prestigious Yale School of Drama, where he had received his MFA in Directing under the tutelage and mentorship of the great Lloyd Richards.
My years at UArts where full of rigor, revelation, opportunity and a widening of my artistic worldview to encompass Walter's vision: the artist's role as storyteller, healer, activist, community responder and advocate for social justice. For the next two decades, Walter would go on to direct me in productions that brought my career to national prominence (Joe Turner's Come and Gone, The Old Settler, Desire Under the Elms).
It was the Fall of 2009; I was on Broadway in the revival of The Royal Family, starring Rosemary Harris. I was also suffering from severe burnout. Years of a zero work-life balance had taken its toll. How fortuitous, when Dr. D called, having recently directed two productions at TDPS: The Bluest Eye, adapted by Lydia R. Diamond, and The Amen Corner, by his friend, the late James Baldwin. Both garnered smash reviews from students, faculty and audiences alike. Now serving as Senior Artist-in-Residence at TDPS, he told me about a pilot program: an MFA in Performance. It would focus on supporting mid-career professionals who were looking to deepen their practice through the acquisition of new skill sets: devising playwriting, research and teaching. 
I said yes. I always said yes to Walter. That's what you did. Doing so proved to be a portal through which untold adventure was always waiting on the other side. I knew nothing of the school, the faculty or the program. I only knew that Walter would be there, and that was enough. It was the best decision I ever made in choosing to continue my education.
The guiding principles of Walter's art were community and the power of the collective. At the School of Theater, Dance, and Performance Studies, under the stellar guidance of faculty members: Leigh Wilson Smiley, Scot Reese, Alvin Mayes, Dean Bonnie Thornton Dill, and guest artists, including Derek Goldman and Dael Orlandersmith, I was asked to stand at the intersection of my abilities. To deepen my capacity, expand my agency and delight in my emerging artistic voice. In these times of lightning quick shifts and unknown landscapes, I offer this:
Take comfort. 
This will all change, and in its place—a new normal. The artist's uncanny ability to adapt, and to be of service in challenging times, are hallmarks of Dr. D's legacy. We defiantly Jump for Joy in your name, and in the faith of all things unseen. Now and forever. Àsę.
--
Sisi Reid, BA Theatre '15
Remembering Dr. D
My name is Sisi Reid (BA Theatre '15). I am a theater artist. Caroline Clay is my chosen Mom and her Daddio is Dr. Walter Dallas. I come from their legacy of theater craft, family, storytelling and a deep courage to loosen the belly and breathe. It is my roots and foundation. 
When I think of Dr. Walter Dallas, known to many students as Dr. D, I am deeply emotional and engulfed in gratitude because he saw something in my spirit; a fire, a desire, a gift, a deep need; that I as a young person did not have the words to fully articulate or even see. College was the beginning of identifying my skill set, purpose, career, and aligning them all together. That journey began with University of Maryland's main stage production of The Old Settler directed by Dr. Walter Dallas. 
In high school, I loved theater and studied it for three years, but I did not know theater was a viable option to pursue as a career. It wasn't something I could clearly imagine for myself. I met Dr. D in 2011 when I was a freshman anthropology major auditioning for The Old Settler. During the audition process, he taught me an encouraging lesson that I will never forget. When I auditioned, I knew nothing about the theater major, the audition process for shows, what main stage productions were or even how the cast list would be announced. At the audition, I waited with one other person to be seen and when I entered the room, Dr. D asked me for my headshot and resume. I told him I didn't have them and didn't know that I needed them. He simply replied  "Then, how will I know who you are among the hundreds of people?" At first I was a little confused because there weren't hundreds of people waiting to audition, but then I got it. My introduction to Dr. D. was his kindness, humor and wisdom. 
Dr. D cast me as the Quilly McGrath understudy in The Old Settler and the rest is history. During rehearsals, I met and connected with our vocal coach Caroline Clay, an MFA candidate, who in Spring '12 became my instructor for my first college theater class, THET 222 - Introduction to Acting. She grew to be my friend, mentor and chosen Mom. During that semester, I added theatre as my major and have been growing as a theater artist ever since. Being a part of a Dr. Walter Dallas production deepened my love of the theater craft in eternally lasting ways. I knew then and I know now that I would not be a professional theater artist without Dr. D casting and believing in me. He saw my purpose from the beginning and has affirmed me throughout the years.
Being directed by Dr. D sparked a fire in me, a lifelong curiosity into the craft of acting and storytelling. As a director and educator, he empowered us as young actors to understand the context of the 1943 setting, connect to the vulnerability of each character's relationships, make the story viscerally present and, ultimately, bring the world of the play to life. I remember being instructed to journal about my character's dreams and create a secret for her. The rehearsal process also included sessions with Caroline Clay (MFA Performance '13) and Anu Yadav (MFA Performance '13) who led us in breath practices and vocal technique. Dr. D's attention to story, research, relationship, and history showed me how sacred theater can be as a practice. As understudies, we were always included in the blocking process and given the opportunity to get on our feet. With his beautiful photography, Dr. D captured and celebrated our first rehearsal and moments before our understudy run. He created and led a space of respect, joy, professionalism and learning that encouraged us to grow and create family bonds as a cast. Bonds that still exist till this day. Fierce was not just a word Dr. D spoke often, but an energy he embodied to the fullest while simultaneously encouraging us to be fierce in our own right. 
The legacy and impact of Dr. D's reach is expansive. In this time of grief and reflection, I am learning I am one of many whose careers began because of Dr. Walter Dallas. I recently relearned that Farah Lawal Harris (BA Criminal Justice '06, BA African American Studies '06 and BA Theatre Performance '08) was similar to me. She was a Criminal Justice and African American Studies double major who performed in her first production ever, The Amen Corner, which was directed by Dr. D. This experience inspired her to re-enroll as a theatre major and ultimately earn a third degree. When I was in undergrad, Farah was a professional theater artist I admired and sought out. She gave me my first paid acting opportunity one week after graduating. I performed in In Her Honor with her theater company Wild Women Theatre. We are now friends, collaborators and fellow producing playwrights with The Welders. To know both of our careers began because of the heart and vision of Dr. D is remarkable. I'm sure throughout my career I will continue to meet more and more people globally whose lives have been changed and impacted for the better because of his existence. 
It is his passing that has made me realize that throughout the years, Dr. D continued to pour love and encouragement into me. As we kept in touch, he celebrated my international travels to London and Brazil by sharing his own insights from his world travels. He continued to share his life experiences and was a source of advice well after graduating. His compassion, wisdom, joy and generosity of spirit are embedded into my journey. His humanity has had a lasting impact on the theater industry, Black theater and all people he encountered. This past week, I rediscovered a response from Dr. D on a photo I shared: 
"Your potential ability as an actress, and even more so as a political/social activist, and 'fierce' are forever linked in mine. You are making a fierce difference as only you can!" - Dr. D
Dr. D, now ancestor, how deeply proud I am to forever be linked with you. There is no end to my gratitude. As I continue my journey and create spaces for breath, story, and healing, I forever pay homage and speak your name. Ásę.
As a student of Dr. D and a teacher, I say to theater artists beginning and (re)beginning their artistic journey: take a chance, show up in the room and align yourself with people who remind of the deep history of theater making and your place in it, your breath, and the sacred practice and responsibility that is being a storyteller. Especially for my fellow Black artists, a reminder: 
We come from a legacy of theater makers. We come from giants, emotional athletes, everyday people and visionaries. People who have disrupted, challenged, re-imagined, cleared pathways, shaken up the earth and dared to breath and feel. Dr. Walter Dallas is one of those giants. 
--
Anu Yadav, MFA Performance '13
Walter Dallas was fierce. A theatrical lion. His life was a masterclass in theater, collaborating with some of the greatest artists of our times—August Wilson, James Baldwin. He worked with the Black Panthers. He studied at Yale School of Drama. He was part of the legendary Negro Ensemble Company in New York City. He had a school in Ghana named after him. He was also my teacher. If you knew him, he was probably yours too. 
In playwriting class, I wanted to write about my life. My work was all about reality and I thought he would embrace what I was comfortable doing. Instead, he insisted I write a fantasy. He was always pushing us to dive headlong into the unknown. He knew that in that space resided possibility beyond fear, truth we could fashion into beauty, even joy. And Dr. D was all about joy. Joy and fear, to him, went hand in hand. The ecstasy of being truly alive demanded we leave our limitations behind. I was terrified that I would find out I was incapable of imagination but I grudgingly followed Walter's lead. He was grading me. To my bewilderment, I soon created a magical world spun from dreams with a kind of abandon I hadn't known in years. 
Walter's guidance helped me shape the play into my thesis. He directed a reading of it which I took to India as a result of his support. There, I reunited with family I hadn't seen in a decade—including my Naniji, my grandmother, who died soon after. I could not have fathomed how Walter's direction into make-believe would change my life so deeply. In his look, his gentle grace and unshakeable belief, I could believe in myself. 
He adamantly refused to give up on the genius of his students, despite our best efforts to resist him. The halls of every place he taught are filled with life-defining moments like these, a glittering expanse of memories that sing to the legacy he left behind. Dr. Dallas was a visionary and an ass kicker. Generous and exacting, Dr. D was fierce. May we all be as fierce and fabulous as Dr. D and as fierce and fabulous as he knew us to be. 
 
---
In his own words
In 2012, Walter Dallas sat down for an interview with The Clarice to talk about his life's work as he was preparing to direct John Henry Redwood's "Old Settler" at the School of Theatre, Dance, and Performance Studies. Check out a video of Dallas talking about "Old Settler" here.
Walter Dallas, "Divine Diva"
I'm a director, I'm a playwright, I'm a musician and recently I've become a photographer. I play a couple of instruments. I teach. Life is full, and exciting. I've lived a charmed life.
Growing up, I directed shows with Coca-Cola bottles as characters in my plays and an eclectic mix of music in the background.
I was very, very lucky as a child. I lived with my extended family in Atlanta, with a lot of cousins and uncles and aunts of various ages who were around all the time. So, I grew up with the Modern Jazz Quartet, Sarah Vaughan, Dakota Staton, Miles Davis, and other artists like that. And rock 'n' roll, classical music, all kinds of music. Then I took piano, viola and organ lessons. Even in kindergarten I'd always put on pageants and plays. I remember being a mouse in The Nutcracker ballet when I was in the first grade and every year after that I wanted to be a soldier. And by the fourth grade I was a soldier, and by the fifth grade I was the prince.
When I thought about what I wanted to be when I grew up, I realized that I already was what I was going to be when I grew up—that is, I was already a fusion of directing and putting on shows with Coca-Cola bottles as characters in my plays, with an eclectic mix of music in the background.
I have a cousin, an actress, who started calling me "Diva." She said that what I do is fierce and that I don't go around trying to be fierce; I just am.
She started calling me "Diva" and then friends in college and grad school did, too. When I asked her, "Why 'Diva'?" She said, "What you do is fierce, and yet you don't go around trying to be fierce, you just are."
I find that theatre is a powerful force that can change the course of my life and the lives of others. When I first came to the University of Maryland and directed my first show, The Amen Corner, I didn't know who was a theatre major, who was ready to have a major role. I just cast those I thought were the best students for the roles. As it turned out, I cast a criminal justice major for one of the leads. She had never been in a play before, not even in high school, but she was fabulous. She was so good, and she loved performing so much. She graduated two weeks after the show closed, and that fall she re-enrolled as a theatre major. In two years, she received a BA in Performance and has not stopped performing professionally since.
The power of theatre, the power of the arts, is amazing. Often you never know how deeply it affects people.
The thing about it is you might know instantly — but often you never know — how deeply it affects people. I often hear from people who say, "You know, what you said that time really turned my life around." Sometimes I don't even remember what I said and sometimes barely remember the person. But theatre powerfully affects people.
Source: https://theclarice.umd.edu/blog/walter-dallas-divine-diva