Cutting-Edge Technology Brings Slasher Comedy to Life
November 12, 2021 School of Theatre, Dance, and Performance Studies | College of Arts and Humanities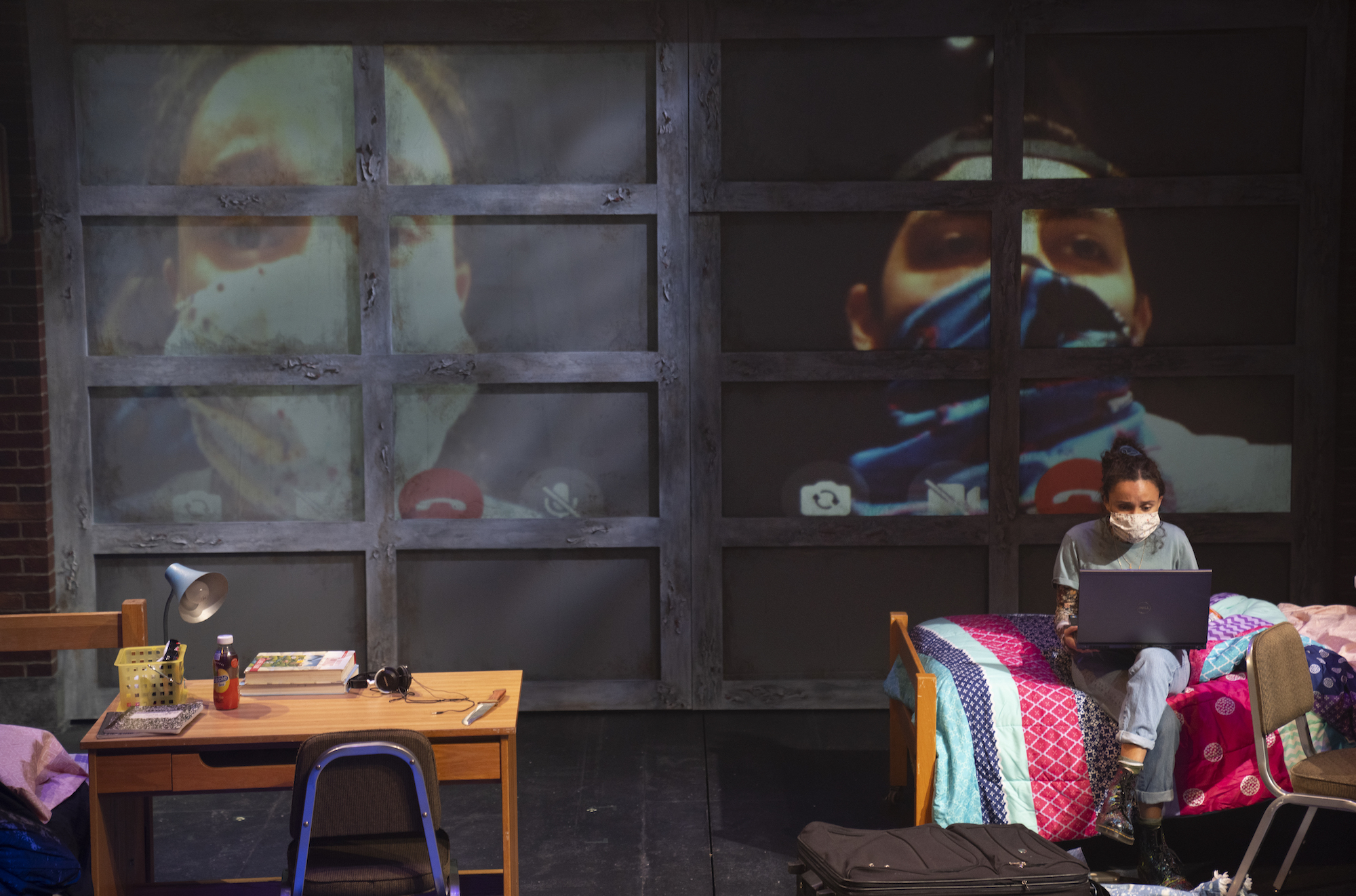 "Hookman" makes use of new technology to create an immersive experience at the intersection of theater and film.
By Kate Spanos '16 Ph.D. theatre and performance studies
Fans of spoofy horror films like "Scream," "Scary Movie" and "I Know What You Did Last Summer" have a chance to relive the 1990s at the play "Hookman," opening this weekend at The Clarice Smith Performing Arts Center. 
Presented by the School of Theatre, Dance, and Performance Studies, "Hookman" is an "existential slasher comedy" by Lauren Yee about Lexi, a college freshman who is dealing with grief and guilt after the sudden and tragic death of her best friend Jess on a car ride to the movies. 
To bring the play's intense scenes to life, the team used cutting-edge technology and design. Thanks to the new Maya Brin Institute for New Performance, purchases for equipment like cameras, lenses and cranes allowed the team to film at night, through glass (like a car windshield) and in tight spaces. 
"This technology allows us to really pull audiences into the story," said director Nathaniel P. Claridad '04. "It will be like watching a movie come alive in the theater."
Sean Preston, a third-year M.F.A. Design candidate, designed projections that will guide audiences in the theater through Lexi's emotional trajectory as she processes her traumatic experience.
"I created a loop that distorts throughout the play, like shattering glass and light stretching, to give a visual representation of Lexi's changing state of mind," said Preston. 
To catch a glimpse of the behind-the-scenes film shoot and get a sneak peak at how it looks on stage (no spoilers!), check out this photo gallery.
-----
"Hookman" by Lauren Yee. Directed by Nathaniel P. Claridad '04. Fight choreography by Jenny Male, dramaturgy by Emily Zhou (B.A. Theatre '22), scenic design by Mollie Singer (M.F.A. Design '21), costume design by Stephanie Parks (M.F.A. Design '23), lighting design by Heather Reynolds (M.F.A. Design '23), sound design by Tosin Olufolabi, and projection design by Sean Preston (M.F.A. Design '22), with special effect supervisor Macaley Fields, stage manager Kate Wander (B.A. Theatre '22) and fight captain Madeline Kline (B.A. Theatre '21).
The show is part of Arts for All, a new campuswide initiative that aims to create new opportunities for students and faculty across disciplines to fuse the arts, technology and social justice.
Photos by David Andrews.
"Hookman" will run at The Clarice's Kogod Theatre Nov. 13-21. Students can get free tickets, and regular tickets are pay what you wish. To reserve tickets, visit The Clarice's website.