Leading With Empathy On and Off Stage
May 21, 2021 School of Theatre, Dance, and Performance Studies | College of Arts and Humanities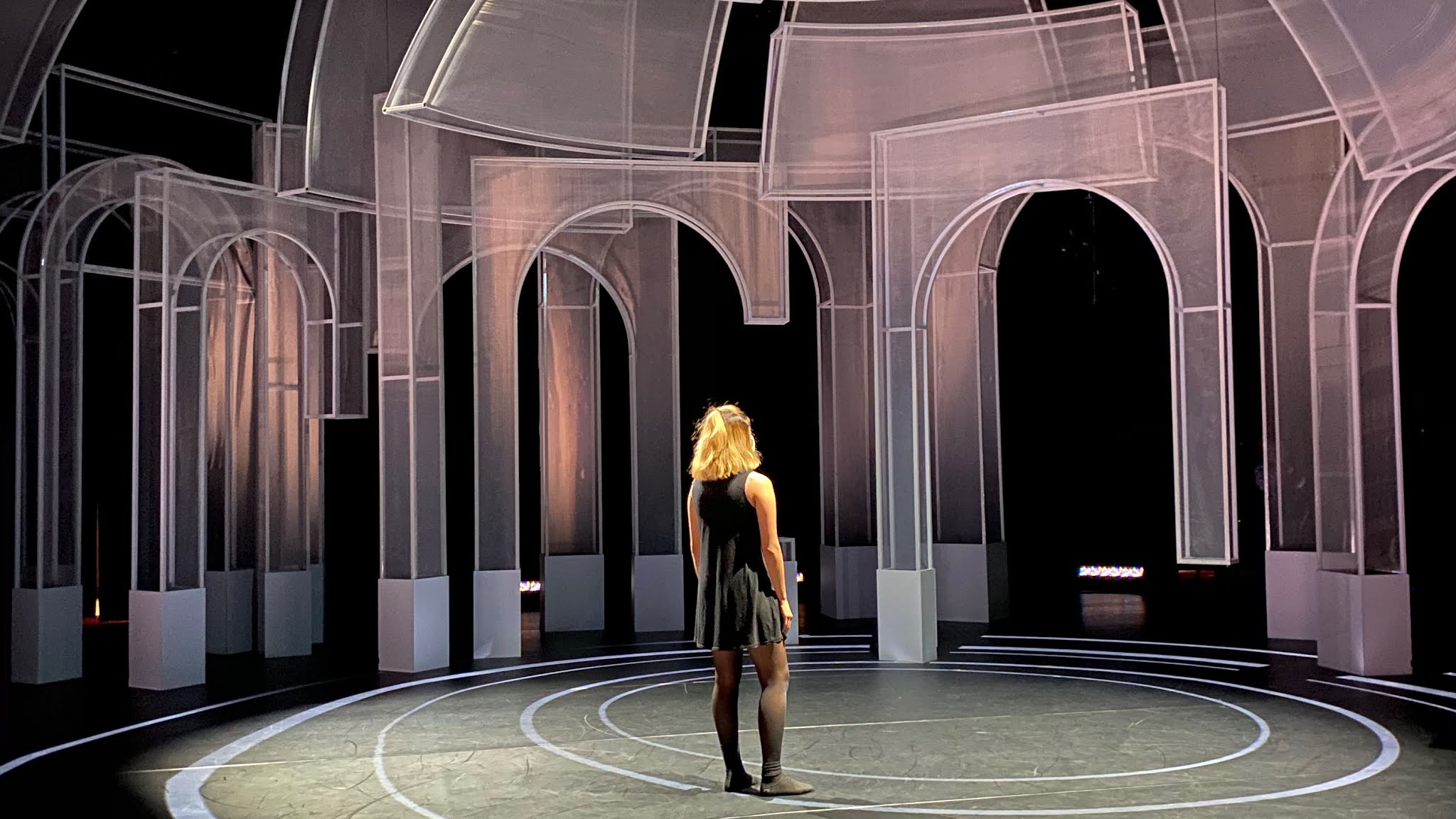 Senior Maria De Barros '21 will move to New York City to pursue a career in stage management.
By Kate Spanos '16 Ph.D. theatre and performance studies
As a child, Maria De Barros '21 loved listening to her grandparents recall memories of the Broadway shows they went to when they lived in New York City in the 1950s. She became fascinated with what was behind the scenes of theater—often wondering how such large productions are orchestrated. 
Now she plans to dedicate her career to being part of the teams that make theater and dance ideas come to life. After graduating with a degree in theatre today, De Barros will move this summer to New York to attend Columbia University's M.F.A. program in stage management. 
"I've always loved how theater brings people together," she said.
Born in Venezuela, De Barros immigrated to Florida at the age of four and became involved in theater in elementary school. Her first experience on stage was in second grade as an actor. She was introduced to stage management in high school, when she realized that she preferred being backstage to acting. She was admitted to the University of Maryland as a Creative and Performing Arts (CAPA) scholar and quickly dove into the theatre major's stage management curriculum, seeking to learn how to effectively lead a complex team. 
The job is more than what happens on stage; it is both project management and people management. The stage manager coordinates the show process—including meetings, rehearsals and performances—as well as team communications and record keeping. De Barros said she especially enjoyed the people-centered philosophy that TDPS promotes, in which stage managers must develop empathy to understand different perspectives and navigate issues that arise within the team. 
"I love working with people," she said. As a stage manager, "I have to be attentive to detail while also thinking about the big picture and how everyone is feeling throughout the production process."
She has worked on numerous productions at the School of Theatre, Dance, and Performance Studies (TDPS), starting as an assistant stage manager with student groups including Kreativity Diversity Troupe, the Weekday Players and The Muses, and moving on to lead stage manager for Main Season shows in her junior and senior years. She stage managed Claudia Rankine's "Citizen: An American Lyric" in 2018 and last fall's MFA Dance Thesis Concert by Rose Xinran Qi and Krissy Harris, which was presented to a virtual audience in the midst of the pandemic. She was also the stage manager for Pearl Cleage's "Flyin' West," which won her an award for excellence from the Kennedy Center American College Theater Festival (KCACTF) in 2020.
Professor of Theatre Performance Scot Reese said he was impressed by how De Barros used her voice as a Latinx woman at a predominantly white institution to build a sense of community and create a platform for students' voices to be heard. She also organized social events that made students feel like they were part of a community, even off stage.
"Maria is one of those students who leaves the school better than she found it," he said. 
De Barros was also a Banneker/Key scholar in the Honors College and joined the Honors Humanities living-learning program, a tightly knit community of students who live in Anne Arundel Hall and take classes together. She credits the program with giving her a well-rounded liberal arts education that helped her with upper level theater history and theory classes. Through her studies, she developed an awareness of the intersections between the performing arts and social justice and has become a strong advocate for this work through her leadership positions with student organizations such as Kreativity Diversity Troupe and the Undergraduate Theatre Artists Society (UTAS), where she served as president for the past year and vice president and treasurer in previous years.
Jennifer Schwartz, TDPS' production manager and one of De Barros' primary mentors, said it is telling that De Barros' peers always sought to have her in leadership roles.
"She brings a vibrancy with her everywhere she goes, which makes it easy for her to connect with others and build trust," Schwartz said.
De Barros hopes to work as a theater professional and possibly an academic. She will start networking when she moves to New York and will join a team of apprentices to find gigs. She was also recently hired to work as a production assistant for "Merry Wives" at the Public's Shakespeare in the Park this summer.
"The theatre program at UMD has prepared me well," she said.
Inset photo: Maria De Barros '21 stands in the center of the stage during a rehearsal for TDPS' "Subject to Change."